Trans-Pacific Teams Advance Technologies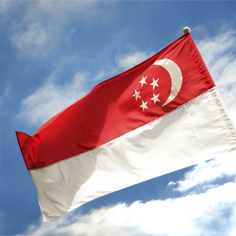 Students enrolled in Carnegie Mellon's Information Systems (IS) program are collaborating with students halfway around the world at Singapore Management University (SMU). Their projects entail testing and evaluating a variety of technologies, such as online project management software, voice-over IP and video conferencing.
"Global collaboration on technology projects is quickly becoming a common business practice," said Carnegie Mellon Professor Randy Weinberg, director of the IS program. "College students graduating with international collaboration experience will naturally rise to the top of job recruiters' most-wanted lists."
Working as a single entity, the trans-Pacific student teams assign leadership roles, set agendas, conduct research, distribute tasks and learn to work directly with professional clients - all essential learning opportunities not found inside traditional classrooms or textbooks.
The students actually take part in building information systems solutions for a variety of community-based organizations, donating their time and expertise to helping clients with information management and organizational challenges. Most recently, these international student teams have developed applications for the Greater Pittsburgh Community Food Bank, National Senior Games Association and Camp Kesem, a non-profit organization that runs camps for children in families affected by cancer.
Currently, one of the teams is developing a web presence for The International Research Foundation for English Language Education (TIRF), an organization that compiles best practices for the global teaching of English.  
"I hope that the projects we're doing this year are the first in a steady-stream of international collaborations among students in diverse locations," added Weinberg.
Weinberg, along with the rest of the IS faculty, encourages students to consider studying abroad. The IS programs at Carnegie Mellon and SMU have an approved student exchange program already in place.
"Students are welcome to consider a semester in residence at Singapore Management University," added Weinberg. "We are committed to making study abroad a viable option for IS majors and we will work with any student considering a semester abroad to see that it is a successful experience."
Information Systems is a unique program within Carnegie Mellon's College of Humanities and Social Sciences, offering students a blend of theory, practice and liberal arts education in one package with research and cultural opportunities not found at many other universities.  
Related Links: IS Program  |  Singapore Management University  |  Study Abroad
---