Program Celebrates 5th Year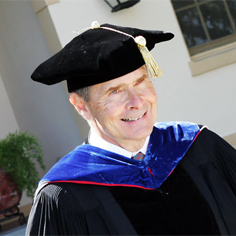 As Carnegie Mellon West celebrates the fifth anniversary of its successful Master's of Software Engineering program, 116 are receiving degrees this weekend. The Aug. 11 ceremony is taking place at the Mountain View, Calif., campus.
Drew Perkins, a 1986 graduate of Carnegie Mellon and chief technology officer at Infinera Corporation, will give the keynote address.
Formerly a principal architect at FORE Systems, Inc., Perkins invented point-to-point protocol (PPP) and several other early Internet technologies while working at Carnegie Mellon in the 1980s. The recipient of an alumni achievement award from Carnegie Mellon in 2005, he has been an active developer of networking standards throughout his career.
Ren Bitonio, winner of an Outstanding Service Award from the university, said the master's program enhanced with the unique learn-by-doing-in-sandbox methodology is a great complement to the technical work he does at Yahoo.
"My undertaking this educational opportunity of becoming a software leader at Carnegie Mellon West is definitely one of my best life decisions," said Bitonio. "As I reflect on the past two years, I am very grateful for the opportunity to receive the very fine education from Carnegie Mellon West and to forge the valuable and meaningful relationships that will continue past my years at the campus."
Located in the heart of Silicon Valley, Carnegie Mellon West continues the tradition of offering world-class professional graduate programs in software engineering and software management, meeting the needs of working professionals. A team-oriented, project-based curriculum provides the opportunity to learn invaluable skills and then immediately apply what is learned to actual work situations.
Within the Master's of Software Engineering program, 56 students are graduating from the program management track; 22 students from the development management track; and 28 students from its technical track.
Ten students are graduating from Master's in Information Technology program.
Photographed: Jim Morris, dean of Carnegie Mellon West
Related Links: Carnegie Mellon West  |  The Global University
---