Robotics Team Will Pursue $20M Prize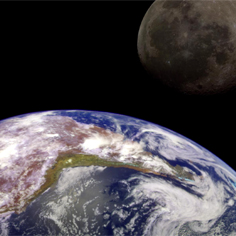 It was a challenge Carnegie Mellon roboticist Red Whittaker couldn't refuse: $20 million to the first team that lands and operates a robot on the moon by 2012. The challenge was announced today by the X Prize Foundation and Google. Whittaker is assembling a Carnegie Mellon team to compete.
"Planetary exploration is a dream we pursue and a technology we create," said Whittaker, the Fredkin Research Professor in Carnegie Mellon's Robotics Institute. "We have spent decades building and testing robotic technologies for just this purpose."
He added, "We are also veterans of competitive technology challenges. These are the things we do, so combining lunar rovers with a competitive race to the moon is a great opportunity."
Whittaker has been advocating the idea of landing a privately-financed robot on the moon for more than a decade, but recognizes it's a daunting task.
"This is one where every detail counts," he explained.
Jay Apt, a former astronaut who is now an associate research professor at Carnegie Mellon's Tepper School of Business and a Distinguished Service Professor in Engineering and Public Policy, said, "This is a tremendous opportunity to pioneer the endless frontier, and I am excited that Carnegie Mellon will be there."
Whittaker is director of Carnegie Mellon's Field Robotics Center, where the prototypes developed for field-testing planetary robotics technology on Earth include:
Nomad, which searched for meteorites in Antarctica;
Dante II, which retrieved gas samples from inside a volcano; and
Scarab, produced for NASA to test robotic drilling with the goal of one day possibly probing for resources that could be mined on the moon.
Whittaker also leads Carnegie Mellon's
Tartan Racing
team, whose self-driving SUV "Boss" is a semifinalist competing for a spot in DARPA's Urban Challenge. Two vehicles developed by Whittaker's team placed second and third in the 2005 DARPA Grand Challenge across desert terrain.
About the race to the moon, Whittaker said, "It's inevitable that someone will find a way to win it. Regardless of who takes home the cash, this achievement will enrich us all."
Image courtesy of NASA/JPL-Caltech
Related Links: Google Lunar X  |  Read Press Release  |  Tartan Racing  |  Robotics Institute
---