Carnegie Mellon, University of Madeira on Human-Computer Interaction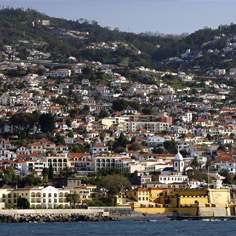 Carnegie Mellon continues its global initiatives, pairing up with the University of Madeira in Portugal to offer a dual-degree master's program in Human-Computer Interaction (HCI).
The program includes coursework at both the Madeira campus and Carnegie Mellon's Pittsburgh campus, plus a capstone project at the University of Madeira. The capstone has students producing a prototype product or service under the guidance of an industrial or organizational sponsor. Students will receive an MHCI from each university upon completion of the program.
An interdisciplinary program, HCI explores the impact of technology on people and how technology can be designed to be usable, efficient and enjoyable.
"Just as different disciplines bring different views to product design, so do different cultures," explained Daniel P. Siewiorek, director of Carnegie Mellon's Human-Computer Interaction Institute.
The program is directed at Carnegie Mellon by Associate Professor of Design Shelley Evanson and at University of Madeira by Nuno Jardim Nunes, head of the Mathematics and Engineering Sciences Department.
"The MHCI program at Carnegie Mellon is well-known and well respected for the graduates that have attended," said Evanson. "They have gone on to good positions in companies large and small."
She added, "There are few places in Europe that can offer students experiences with a multidisciplinary mix of computer science, psychology and design along with experience in real-world, hands-on, project-based learning. This program seeks to fill that gap."
The partnership is part of a long-term educational and research collaboration between the Carnegie Mellon and Portugal's Ministry of Science, Technology and Higher Education.
"Guidance from both our faculty and industrial sponsors has been a keystone for our human-computer interaction students," said Carnegie Mellon Provost and Vice President Mark Kamlet. "Expanding this model to a global scale will strengthen our educational program while making new tools available to address the issues of international business."
The Carnegie Mellon-Portugal program is run by the Information and Communications Technologies Institute (ICTI), an international "virtual" institution with poles in Portugal and at Carnegie Mellon.
José Moura, professor of electrical and computer engineering at Carnegie Mellon and director of the ICTI@CMU pole of ICTI and the Carnegie Mellon-Portugal Program, said, "The MHCI will contribute significantly to the goals of the Carnegie Mellon-Portugal Program—strengthening international collaborations with Portuguese universities, strengthening their connections with companies and educating specialized cadres in high-technology areas."
Both the program and the ICTI are funded by the Portuguese government through the Portugal Foundation for Science and Technology.
Related Links: Read More About the Program  |  Read News Release  |  Human-Computer Interaction Institute  |  University of Madeira
---