Telstra Supports Heinz School Students in Australia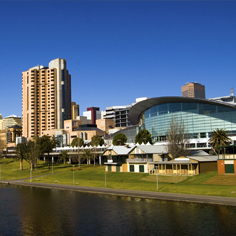 Telstra, a leading Australian telecommunications company, recently announced it will fund approximately $1.7 million to support information technology research at Carnegie Mellon's Heinz School in Adelaide over the next six years.
The funding will support 15 post-graduate IT students in Australia for the completion of a Master of Science in Information Technology. Each post-graduate scholarship is valued at $90,000.
Sol Trujillo, the company's chief executive officer, points to IT knowledge as an important force in driving innovation across a wide spectrum of businesses and industries.
"Telstra's decision to support these two programs reflects its commitment to Australia's future information technology skills and capability and it provides an exciting opportunity for post-graduate IT students in South Australia," Trujillo said.
He added, "The most successful technology leaders are those with deep expertise in technology and business strategy. Carnegie Mellon's Master of Science in Information Technology is an elite degree that equips students with both information technology and business management skills."
Related Links: Heinz School Australia  |  Master of Science in Information Technology
---