Qatar Campus Construction Continues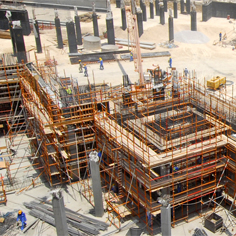 On what was a stretch of desert on the outskirts of Doha just 10 years ago, construction is well underway for Carnegie Mellon's home in Education City, Qatar. The building will be three stories high and situated between the Weill Cornell Medical College and the Texas A&M engineering building, along Education City's main green spine.
Carnegie Mellon Qatar is the university's first international, undergraduate campus, providing an undergraduate education in business and computer science. With ongoing collaboration between faculty and experts around the globe, the students in these top-ranked programs have unparalleled access to the leading minds in computer science and business.
Designed by renowned architectural firm Legorreta+Legorreta and built by the Qatar Foundation, the building is expected to be completed by 2008.
The 44,000-square-meter (475,000 SF) building will house state-of-the-art classrooms, computer labs and a three-story indoor atrium. The atrium will be the hub or the living room of the building.  It will include food service, a lounge, an assembly area and a campus walkway that passes right through the building — inviting the entire Education City community into Carnegie Mellon.
The design concept is to provide a stimulating atmosphere in a technologically advanced building, sparking the kind of academic excellence that is the hallmark of Carnegie Mellon students around the world.
"Construction is on schedule, though not without challenges," says Kevin Lamb, assistant dean at Carnegie Mellon in Qatar. "The building boom in the Gulf creates spot shortages of materials from time to time. But the contractor tells us we are on track for having the building complete and ready for fall 2008 classes. In the end, Legorreta's building is going to make a great home for Carnegie Mellon here."
A live webcam allows viewers to watch the historic building rise from sand into one of the premiere teaching and learning facilities in the Gulf Region.
Related Links: Watch Construction  |  Carnegie Mellon Qatar
---