Sandeep Pandey Visits Heinz School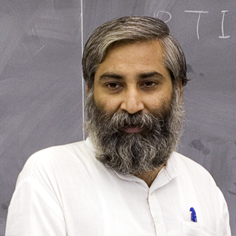 Indian activist Sandeep Pandey recently taught a three-day course, "Building Democracy at the Grassroots in India," at Carnegie Mellon University's Heinz School of Public Policy and Management. During his visit, he also held an open discussion with students.
Pandey received the Magsaysay Award for Emergent Leadership in 2002 — often referred to as the Asian Nobel — for his efforts to provide basic education to underprivileged children in India, undertaking a nuclear disarmament peace march, promoting peace and friendship at the people-to-people level between India and Pakistan and fighting communal politics.
An engineer by training, Pandey briefly held a faculty post at the Indian Institute of Technology in Kanpur before dedicating his life to grassroots struggles.
He advocates for the importance of keeping the needs of the poor in India in mind over the demands for privatization, economic liberalization and industrialization.
"We need paths of development where the benefits of modern science and technology can be equitably shared with the majority of the population," he said.
As a doctoral student at University of California, Berkeley, Pandey co-founded the Asha (Hope) for Education organization. The group raises funds and builds a volunteer base for improving basic education in lower-caste Indian communities.
He has since made headlines by walking about 1500 kilometers from Pokhran, a nuclear test site, to Sarnath, where the Buddha first taught his disciples. He's also led a peace march from Delhi, India, to Multan, Pakistan —  initiating peace-building discussions at villages in both countries along the way.
Pandey's visit was sponsored by the Heinz School's Institute for Social Innovation (ISI). Directed by Alan Friedman, the ISI was established in 2006 to foster innovation and entrepreneurship in the social sector through education, research, and local and global outreach. 
Photographed: Sandeep Pandey
Related Links: Pandey's Latest Blogs  |  Heinz School  |  Institute for Social Innovation
---