Freeman Award Sends Students to Asia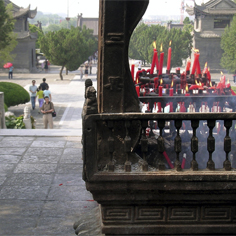 Interested in study abroad? Carnegie Mellon students Samantha E. Cho and David Andrews will get the opportunity this summer through help provided by the Freeman Award for Study in Asia (Freeman-ASIA). The award is funded by the Freeman Foundation and available through the Institute of International Education.  
"By providing students with the financial assistance to study in East and Southeast Asia, the Freeman Foundation seeks to promote a greater understanding of Asian culture and its people," said Eva Mergner, senior coordinator for study abroad and exchange programs in Carnegie Mellon's Office of International Education (OIE).
Mergner added that part of the application includes a proposal submitted by the student suggesting what they want to do and why. A key part of the proposal is that they provide an example of how they are going to bring their experience back to campus.
Cho was inspired to study abroad after a friend described the experience of studying in Shanghai.
"Though I was interested in learning the Chinese language for many years, I had never thought about studying in China before," said Cho. "That changed once I heard about the summer program at Shanghai International Studies University. It was perfect for me!"
Cho says she is thrilled about studying abroad this summer — particularly since never thought she would be able to afford it financially or fit study abroad into her four years of college.
"While I am in China, I would like to meet many new people, make new friends, improve on my Chinese, tour various cities, and learn more about the Chinese culture," she said.When she returns, she plans to hold a panel discussion for the campus community led by others who also have had experiences in Asia.
The Freeman-ASIA summer programs include awards for up to $3,000 to support American undergraduates planning to study in East or Southeast Asia. Both students received the full amount of the award.
Andrews and Cho will participate in a summer program at the Shanghai International Studies University, where they will study the Chinese language to improve their reading, writing, listening and speaking skills.

Ken Lau, a former Freeman-ASIA award recipient, studied in Hong Kong, China and Singapore, and found it to be nothing less than exciting.
"Nestled beneath the high-rises are streets as vibrant as the colors of the apartments," he said. "In every corner, one can taste new food and see new shops."
Lau took photographs of his surroundings — including the photograph accompanying this article — that were later made into note cards with quotes describing the experience. The note cards are available for purchase in the Carnegie Mellon bookstore.
Related Links: Freeman-ASIA  |  OIE
---