Leaders to Discuss Future of the Software Industry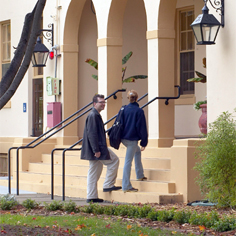 Carnegie Mellon and the University of California at Berkeley will sponsor a one-day conference April 30 exploring the future of the software industry. The event will be held at the Microsoft Research campus in Mountain View, California.
"The software industry is consistently in a state of flux, yet developments such as globalization and outsourcing are altering both the tempo and the type of change taking place," said James Morris, dean of Carnegie Mellon West.
He added, "We are entering a period of profound change, and we all need to know what's happening and what we can expect going forward. This conference draws on some of the best and brightest minds in academe and the software industry to answer those questions."
The conference — called "The New Software Industry: Forces at Play, Business in Motion" — is a joint effort by Carnegie Mellon West; The Fisher IT Center at the Haas School of Business, UC Berkeley; and the Services: Science, Management and Engineering program at UC Berkeley.
Ray Lane and Michael Cusumano will lead interactive discussions on issues and trends that will significantly alter the way technologists do business. Software customers, investors and developers will gain a framework for the future of the software industry, as well as pointers on where the best opportunities will be found.
Jack Grantham, executive director of the Haas School's Fisher Information Technology Center, described the conference as "a rare opportunity for vendors to check their sales and marketing hats at the door, and settle into discussion and debate over the future of the industry with attendees, academics and other industry thought leaders."
Grantham said the discussions will cover a wide range of issues, including the changing business of software, the role of open source in service management, integrating traditional software engineering practices with modern service-oriented development, and more."
To register for the conference, visit http://www.acteva.com/booking.cfm?bevaid=128819.
Related Links: Register  |  Carnegie Mellon West
---