Chinese Language Program Gains Popularity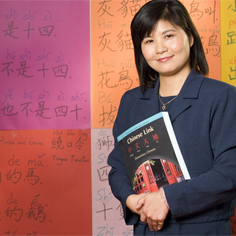 The number of students enrolled in Carnegie Mellon's Chinese language program has jumped from 415 to over 600 in the last two years. Sue-mei Wu, associate teaching professor of Chinese, believes there are several reasons for the increase in the language's popularity.
"Students who attend Carnegie Mellon are looking for a challenge, and Chinese is definitely one of the more challenging languages," explained Wu.
"But we also have more Chinese students on the campus, and they want to learn about their parents' heritage," she added. "And we have students who are not Chinese but who want to understand the culture of their Chinese friends here — and possibly visit them one day in China, Taiwan or Hong Kong."
Add to that the growing number of career-oriented students seeking an advantage in the global market.
"If two graduates are applying for a job and they both have the same credentials but one also knows how to speak Chinese, the graduate who can speak Chinese could have an advantage in today's global market," Wu noted.  
Wu has devoted her linguistics, pedagogy and technology expertise to creating and developing various innovative new Chinese courses, textbooks, online courses and web pages.
Her online Chinese LearnLab course — which uses technology to help measure and track student learning behavior — is supported by a grant from the National Science Foundation (NSF) through the Pittsburgh Science of Learning Center (PLSC). No Chinese online project has ever before been funded by the NSF.
"I am so lucky to be able to work with computer scientists, cognitive researchers, technological tool developers and psychologists at a university recognized worldwide for its collaboration across the disciplines," said Wu. "We are not just teaching Chinese; here, we are part of the science of human language."
Wu is the project leader of "Chinese Link: Zhongwen Tiandi," the first Chinese language textbook to have been published by Prentice Hall. Since its publishing in 2006, it has been adopted by many college and high school Chinese programs.
Related Links: PSLC  |  Dept of Modern Languages  |  H&SS
---