Fourth Commencement in Athens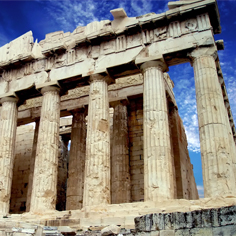 The Master of Science in Information Networking program — a collaborative effort between Carnegie Mellon and Athens Information Technology (AIT) — has graduated its fourth class of IT specialists. The 13 students received their diplomas from Carnegie Mellon's Information Networking Institute (INI) at a June 11 ceremony in Greece.
"The new graduating class enters the marketplace with problem-solving skills and the global management savvy to compete and lead in today's wired world," said Pradeep Khosla, dean of Carnegie Mellon's College of Engineering.
Located several miles from downtown Athens, the campus offers classes ranging from software engineering to the principles of broadband networking and managerial economics.
Through the collaboration, Carnegie Mellon and Greek officials seek to attract Europe's best and brightest while creating a center for excellence in research and education in information technologies.
"An array of challenges awaits the new global workforce," said INI Director Dena Haritos Tsamitis, who also directs education, training and outreach at Carnegie Mellon CyLab, and is adjunct faculty at the Heinz School. "Our international program prepares graduates to be the next generation of leaders, who can grasp technology business and policy aspects of secure communication networks."
Related Links: VIDEO  |  Read More  |  Information Networking Institute  |  CyLab  |  College of Engineering
---