Collaboration Translates into One-of-a-Kind Play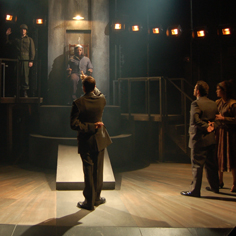 Before Carnegie Mellon grad student Dan Rigazzi could complete his production of Woyzeck for the spring of 2007, he needed some help translating old German texts related to the play's subject. The quest led him to Carnegie Mellon's Christian Hallstein, teaching professor of German in the Modern Languages Department.
"I asked around among our German majors and minors to see if any one would be interested in taking an independent study on translation and found eight students who were happy to do it," Hallstein said.   
Together, the students translated a 13,000 word medical and legal text from the early 19th century that had a direct bearing on the case of soldier Johann Christian Woyzeck.
The play, by Georg Buechner, is an intricately woven tale of law, medicine, psychology, sex, jealousy and military authority. Rigazzi used the previously untranslated text as the foundation for his approach to the production.
The translated text helped Rigazzi sift through the complicated case of Woyzeck, who was publicly executed for the murder of his girlfriend even though there was serious doubt about his legal sanity.
This is not the first time Hallstein has collaborated with the School of Drama. In the spring of 2005 graduate student Sven Miller adapted Goethe's Faust for a studio performance called Cut Faust!, which was performed by three undergrads.
The Max Kade Foundation funded a trip to Weimar, Germany, during spring break for Hallstein's German Literature students. Miller and his three acting students joined them on the trip that took them to see firsthand the places where Goethe and Schiller lived and worked.
Carnegie Mellon is recognized worldwide for its collaboration across traditional departmental lines. 
Related Links: Modern Languages Dept  |  School of Drama  |  Global University
---