Innovation Knows No Borders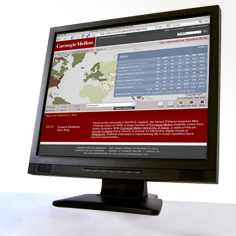 On the anniversary of the www.cmu.edu redesign comes a redesigned area on Carnegie Mellon's website that shows viewers the university's presence around the world — with just the click of a mouse button.
Visitors to The Global University site will find an interactive map with specific information on Carnegie Mellon's international campuses and locations. The site also allows visitors to explore which countries current students and alumni call home, and it provides quick access to alumni chapters around the globe.
In addition to offering information on the international Carnegie Mellon family, the site is regularly updated with news about the university's global endeavors.
"Working with the interactive web agency, Ripple Effects Interactive, we're able to show the breadth of the Carnegie Mellon experience on a global scale," explained Marilyn Kail, assistant vice president for marketing communications.
Kail added, "We're not aware of any other universities offering its web visitors a tool like this. These new sites really offer a way for you to see the kind of impact this university is making in every corner of the world."
A top-ranked research university of more than 10,000 students, 70,000 alumni and 4,000 faculty and staff, Carnegie Mellon is recognized for its world-class arts and technology programs, collaboration across disciplines and innovative leadership in education.
Related Links: The Global University  |  Alumni
---