Sparking New Business in Doha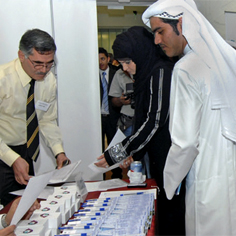 A new training program for budding entrepreneurs began this fall at Carnegie Mellon University in Qatar: the Executive Entrepreneurship Certificate Program. The course — presented by Carnegie Mellon in partnership with Qatar Science & Technology Park — is expected to boost opportunities for creating technology start-up companies in Doha.
"Entrepreneurial spirit and know-how are essential for building a dynamic knowledge economy," said Eulian Roberts, chief executive of Qatar Science and Technology Park, a home for technology-based companies from around the world, and an incubator of start-up enterprises. "We have identified one of the best entrepreneurship programs from around the world to establish its activities in Doha."
The nine-month, part-time program aims to transform Qatar's deep investment in research and education into business success stories. It will teach aspiring managers and executives how to build technology-based businesses by acting entrepreneurially, innovating within their existing companies or starting a new enterprise.
The Executive Entrepreneurship Certificate Program is run by Carnegie Mellon's Tepper School of Business and its Donald H. Jones Center for Entrepreneurship. The center, recognized as one of the best in the world, has taught thousands of people to create new businesses, including the founder of iGate Corporation — a global IT company with nearly $400 million market capitalization.
Roberts explained that Carnegie Mellon's course provides exactly the right set of skills and will be tailored to the unique Middle Eastern business environment.
"We warmly encourage individuals and executives in Qatar and around the region to come and share the passion of creating new technology business," Roberts said.
The program is designed for companies seeking to create new revenue streams and for entrepreneurs aiming to start their own business. It teaches skills and methods for creating technology-based ventures through practical, real-world projects.
A key part of the program is networking: Carnegie Mellon's strong reputation and loyal alumni allow it to bring in successful international investors, entrepreneurs and mentors to share their experience with students.
Applicants need to be located in Doha in order to attend the classes, which are scheduled outside business hours.
Related Links: Listen to Podcast  |  Course Info  |  Carnegie Mellon Qatar
---