Students at Carnegie Mellon Adelaide to Benefit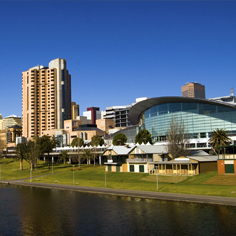 Future leaders from Shandong Province in the People's Republic of China will undertake master's degree programs at Carnegie Mellon's Heinz School Australia under a new scholarship program established jointly by the State of South Australia and Shandong Province.
The Carnegie Mellon University Shandong Future Leaders Scholarships program will support up to four students over the next two years. Students can choose either the Master of Science in Public Policy and Management or the Master of Science in Information Technology at the university's Adelaide campus.
Heinz School Adelaide Executive Director Tim Zak said, "This scholarship program marks the beginning of what will be a long-term and mutually beneficial relationship between Shandong Province and Carnegie Mellon University."
Graduate student fellowships are of extraordinary importance to the Heinz School. They help to recruit talented students while furthering the school's mission in both teaching and research.
South Australia also provides an affordable, dynamic, diverse environment in which to live and study. The state is home to numerous small and mid-sized businesses and to the largest concentration of the Commonwealth's defense industry.
Both public and private sector organizations in the region are actively seeking to employ talented professionals. And Carnegie Mellon's programs provide students with introductions to future employers through opportunities for internships and projects with South Australian organizations.
Related Links: Financial Aid for Australian Students  |  About Heinz School Australia
---