Qatar Business Students Honored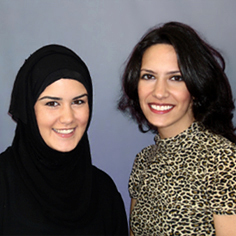 Two business administration students from the Carnegie Mellon Qatar Campus were recognized for their contributions to the community during Homecoming Weekend. Jinanne Tabra (TPR '08) and Noor AlAthirah (TPR '08) were honored by the Tepper School of Business with Student Service Awards.
Tabra has served as a leading member of many campus organizations including Student Government, Carnegie Mellon Business Association (cmBA), the Qatar campus newsletter and the academic tutoring center. She also devoted the past two summers to designing and running first-year orientation.
"Because we're a new campus, I feel proud to be a part of the very beginnings, putting ideas into motion that will outlast me at the university," she said. "What's more important, though, is having the opportunity to pass that on to younger students who will continue to do the same. It's rewarding to know that we've played a small part in another student's growth."

Tabra views the award as a 'huge' honor. "Obviously, contributing to the community is something you do for its own sake, but it means a lot to be recognized for it."
AlAthirah is being honored for maintaining an excellent balance between studying, participating in community service and representing Carnegie Mellon. She gets great satisfaction from mentoring first-year students as they transition from high school to the university.
"I truly believe that all students should be motivated to work hard — not just to win an award, but to have a positive effect," she said. "This recognition of my efforts motivates me to continue working hard and setting my goals high."
AlAthirah sees the opportunity to study at Carnegie Mellon University in Qatar as a privilege.
"It's a great mix of first-class academics and close attention from professors," she added. During Homecoming Weekend, she reunited with all of the friends she made during her semester here in Pittsburgh.
"I also hope to learn more about life after graduation for Carnegie Mellon alumni."
Photographed left to right: Jinanne Tabra, Noor AlAthirah
Related Links: Qatar Campus  |  Tepper School of Business
---