Steinbrenner Institute Director Leads Call for Change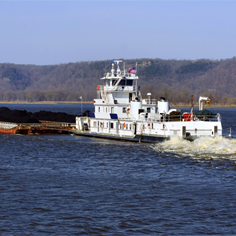 From the adventures of a riverboat cruise to the echoes of Mark Twain's voice, mention of the mighty Mississippi River conjures up many images. Carnegie Mellon Professor and Steinbrenner Institute Director David Dzombak is leading the call for change with regard to improving the river's water quality.
Dzombak chaired the National Research Council (NRC) Committee on Mississippi River Water Quality and the Clean Water Act. And a recent NRC report urges the Environmental Protection Agency (EPA) to take a stronger leadership role — in coordinating and overseeing state activities along the river.
"The ten states that border the river conduct their own water quality monitoring and assessment programs under the Clean Water Act with little coordination," explained Dzombak, who is the Walter J. Blenko, Sr. Professor of Environmental Engineering and director of the Steinbrenner Institute for Environmental Education and Research at the university. "In order to address the interstate water quality problems in the river, the EPA needs to ensure better interstate coordination of Clean Water Act activities."
Of primary concern are the nutrients and sediments from land run-off, or "non-point source pollution." The Mississippi is the third largest drainage basin in the world, and run-off from as far away as Appalachia to the Rocky Mountains can find its way into the river.
The report acknowledged that the Clean Water Act — established in 1972 — has been effective in controlling point-source discharges, such as sewage from cities along the river, but only addresses non-point source pollution in a limited way.
According to the report, there is too much sediment in the upper part of the river. At the same time, the sediment concentrations of the lower Mississippi are too low due to flood protection and navigation control dams and levees in the upper Mississippi. The nutrient pollution in the river, primarily related to nitrogen from agricultural runoff in the upper Mississippi River basin, is responsible for the low-oxygen "dead zone" in the Northern Gulf of Mexico.
Millions of people get their drinking water from the Mississippi. The report identified needs for better monitoring of river water quality, and described the Mississippi River as "an orphan" with respect to water quality monitoring and assessment in reference to the limited attention it receives from the states.
"It's difficult to develop plans to address system-wide water quality problems when we have limited data," said Dzombak.  "Mississippi River water quality is critical to sustaining the recreational, commercial, and environmental services of the river which are of great value to the nation."
He added, "The Clean Water Act provides the framework to restore Mississippi River water quality. We need leadership by the EPA to ensure that provisions of the Clean Water Act are fully implemented to move the restoration efforts forward. The EPA has provided such leadership for the Chesapeake Bay, and a similar effort is needed for the Mississippi River."
Related Links: Steinbrenner Institute  |  Press Coverage
---