The Power Puzzle Challenge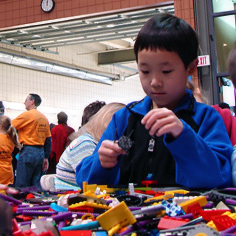 First Lego League (FLL), an international program for children ages 9-14, recently held its 2007 tournament in Pittsburgh. Shirley Saldamarco, who is a professor and supervising producer at Carnegie Mellon's Entertainment Technology Center (ETC), joined in on the fun as one of the judges.
"It was exciting to see kids so motivated about math, science and robotics. Their knowledge of programming and design was truly impressive," she said. "They not only created amazing robots, many of the teams displayed their team spirit with face paints, T-shirts, cheers, rap songs and just plain out and out enthusiasm. The excitement generated by the spectators in the stands was electric and matched that of any sporting event I've ever attended!"
The FLL annually gives teams around the world a challenge based on a set of real-world problems facing scientists today. This year's challenge focused on how an individual's personal energy choices impact the environment, economy and quality of life around the globe.
The teams participate in a hands-on, interactive robotics program and a research presentation with a sports-like atmosphere. For the challenge, they design, build, program and test autonomous robots that must perform a series of tasks or missions that offer a technological or engineering solution to an aspect of the challenge.
FLL encourages children to build and experiment so they can become immersed in the entire process of creating ideas, solving problems and overcoming obstacles with an emphasis on teamwork.
Saldamarco said that during the competition, teams jockeyed for position, tagged substitute team members to jump into the play arena or stood outside cheering.
"We just might be looking at the future generation of ETC students," Saldamarco said.
Carnegie Mellon is a leader in the field of robotics. With both top-quality fine arts and technology programs, the university's two-year Masters of Entertainment Technology degree is a unique offering among American universities.


Related Links: Entertainment Technology Center  |  First Lego League International
---