Research on Peace-Making Gamers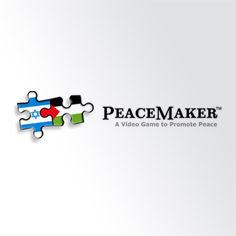 A Carnegie Mellon professor is using the PeaceMaker video game — which calls on players to resolve the Israeli-Palestinian conflict — to study how a person's background and knowledge of the conflict influences how they negotiate a solution.
Cleotilde Gonzalez, director of the university's Dynamic Decision Making Laboratory, wants to know how students sympathetic to one side or another play the game differently, and how students' strategies change as they learn more about the conflict.
Gonzalez is conducting her research at Carnegie Mellon in Pittsburgh, Carnegie Mellon in Qatar and through the Peres Center for Peace in Israel, where as many as 10,000 Israeli and Palestinian youth will participate in the study.
"We see this project as a first step in advancing our research in applying decision science and simulation techniques to real-life social and political dilemmas," said Gonzalez, who is an associate research professor in the Department of Social and Decision Sciences.
Gonzalez said that while many people have studied sequential decision making, research has rarely focused on this kind of realistic, dynamic decision making. Impact Games has modified the game for Gonzalez's research so that it can record every action a player makes.
With funding from the Lounsberry Foundation, Gonzalez is working with Carnegie Mellon's Kiron Skinner, director of the International Relations Program, and Laurie Eisenberg, associate teaching professor of history, who teaches a course titled "The Arab-Israeli Condition: War and Peace." Students' familiarity with the conflict is being gauged and monitored as they go through the semester and play the game.
Next semester, Gonzalez will conduct a similar study with students at Carnegie Mellon's campus at Education City in Doha, Qatar.
At the Peres Center in Israel, a study will be run through the center's IT Peace Projects Department. Israeli and Palestinian youth will participate in a series of workshops in which each child will play PeaceMaker as both the Israeli prime minister and the Palestinian leader.
"The data we collect will help us understand what strategies students follow in the game, how these strategies compare when they play each of the two sides and how do strategies differ according to the children's backgrounds," Gonzalez said.
Related Links: Play the Game  |  Dynamic Decision Making Laboratory  |  Dietrich College of Humanities & Social Sciences
---