Indian President Abdul Kalam & Archbishop Desmond Tutu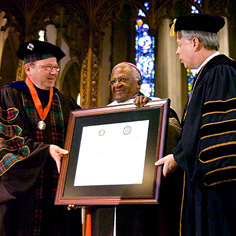 Carnegie Mellon University recently awarded former Indian President Abdul Kalam with an honorary doctorate in science and technology during a special ceremony held at the University Center on the Pittsburgh campus.
"As engineer, educator, leader of a great nation and world statesman, Dr. Kalam has inspired millions with his commitment to science and technology as instruments of peace and global development," said Carnegie Mellon President Jared L. Cohon. "We especially honor his unswerving belief in the transformative power of learning."
During his five years as president of India, Kalam focused efforts to transform India from its present developing nation status to a developed nation by 2020. He has provided the nation with an innovative rural development program called Providing Urban Amenities for Rural Areas (PURA).
Kalam has also provided a road map for the country's energy independence by 2030. His book, "India 2020 - a vision for the New Millennium," is popular throughout India and has been translated in many languages.

In a separate ceremony held at Calvary Episcopal Church of Pittsburgh, Carnegie Mellon conferred jointly with University of Pittsburgh an honorary doctor of humane letters degree upon human rights activist Archbishop Desmond Tutu. Tutu won the Nobel Peace Prize in 1984 for his crusade against South Africa's apartheid system of racial segregation and oppression.
According to the Pittsburgh Post-Gazette, religious leaders from evangelical Presbyterians to Muslims to rabbis to Catholic Bishops were among the overflow crowd in attendance.
The event marks the first time Pitt and Carnegie Mellon jointly have conferred an honorary degree.
Photographed: (top) President Cohon, Archbishop Tutu, University of Pittsburgh Chancellor Mark A. Nordenberg, (bottom) Indian President Abdul Kalam
Related Links: Read Kalam Press Release
---