Software Developed by Carnegie Mellon, NASA, Google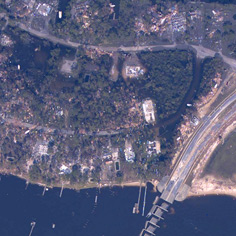 Researchers from Carnegie Mellon University, NASA and Google have joined together to help rescue workers respond to natural disasters.
Developed through the Global Connection Project, the team developed software that enabled rescue workers and evacuees to go online to assess damage and monitor receding water levels in the wake of Hurricane Katrina. The overlay software was also used for hurricanes Rita and Wilma and for the earthquake in Pakistan.
"This was possible because we happened to be in the right place at the right time," said Illah Nourbakhsh, an associate professor at Carnegie Mellon's Robotics Institute. The software was not developed with disasters in mind, Nourbakhsh explained.
As part of the project's goal to help people learn more about each other and the environment, the team developed software to layer text and photographs from National Geographic magazine onto Google Earth. This allowed users to not only see geographic features in great detail, but also read about places and people, and peruse related photographs.
But when Hurricane Katrina hit the Gulf Coast in 2005, the software and the Global Connection Project staff served double duty, layering updated National Oceanic and Atmospheric Administration aerial photos of the storm-damaged areas onto Google Earth.
"We were able to jump right in because we had already written the software for the National Geographic images," said Randy Sargent, project scientist at Carnegie Mellon's West Coast campus in Silicon Valley and co-principal investigator of the Global Connection Project with Nourbakhsh. As a result of the experience with Katrina and subsequent disasters, they are developing the infrastructure necessary to make disaster imaging routine.
The team was honored for its work at a black-tie gala Nov. 15 for the annual Tech Museum Awards in San Jose, Calif., where presenters recognized innovative uses of technology that help solve global challenges.
Photo courtesy of the National Oceanic & Atmospheric Administration.
Related Links: The Global Connection Project  |  Carnegie Mellon West Coast Campus  |  The School of Computer Science
---