Building Energy Models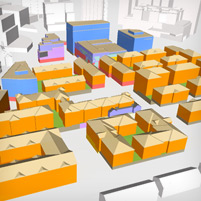 The Urban Energy 360 app visualizes energy data in 3D for a proposed development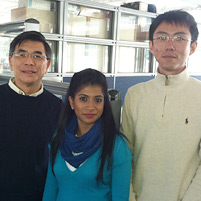 [l-r] Khee Poh Lam, Shalini Ramesh and Haopeng Wang
Modeling the energy use for a single proposed building can be a daunting task. Doing it for a planned neighborhood development? That's just everyday work for Carnegie Mellon University's Center for Building Performance and Diagnostics (CBPD).

It's also award-winning work. Students from the CBPD recently took third place for an app they designed at a competition that included professional software companies.

Whole building energy simulation during the design stage has become a common trend among building designers concerned about energy conservation. The CBPD, The Robert L. Preger Intelligent Workplace, took the task one step further by working to address the total energy consumption for a neighborhood through modeling a planned development near downtown Pittsburgh, where a sports stadium once stood.

The proposed development included 36 building blocks comprised of more than 2.9 million square feet of residential, commercial and retail space spread out over 28 acres.

"For the first time, we're able to provide very, very detailed high-resolution or high-fidelity data to the developers," said Architecture Professor Khee Poh Lam. He said in the past developers tend to overestimate energy use due to uncertainties. "Not only does it impact cost, but also inefficiencies."

By having more detailed and reliable numbers, Lam said, developers may be willing to invest more in green building features to meet standards such as LEED, the Leadership in Energy & Environmental Design. Developers can see the benefits of using more energy efficient building materials that while may cost more at the outset, could lead to overall lower energy bills and a more environmentally friendly development.

A portion of the work was done during a Building Performance Modeling class. Shalini Ramesh, a doctoral student in Architecture and research programmer Haopeng Wang, then took the information and built a visualization tool.

Using GIS software, including Autodesk BIM360 Glue, the buildings — and information — can be viewed either in 2D or 3D through an app that Ramesh and Wang built called "Urban Energy 360." The map provides information on the entire site energy consumption, which can be broken down to information for different building types, and even to hourly energy consumption, energy use intensities and peak heating and cooling times.

The researchers considered many variables including occupancy densities, lighting, equipment, weather data and surrounding buildings, to name a few.

"Not only can we give a ballpark number about how much energy is being used, we can tell them who is using what at what time, whether it is residential use, hotel or so on", Lam said. That has been incredibly enriching to be able to have such data derived from the modeling."

The work was done for the Pittsburgh Penguins and Urban Design Associates with financial support from Pittsburgh Gateways. But the techniques developed could be used for other large-scale developments in the United States and around the world.

The project has already had impact beyond its original scope. "Urban Energy 360" was submitted to the Autodesk APPHACK 2.0 international professional software development competition.

Pitted against some 40 submissions from professional software development companies and researchers from a variety of disciplines, the application was selected for further development and won third place at the Autodesk University Annual conference in Las Vegas. First and second went to companies.

"We show the strengths of Carnegie Mellon," Lam said. "Working with the real world solving real-world problems."

Lam is one of the more than 100 CMU faculty working together across disciplines to solve the world's toughest energy challenges through the university's Wilton E. Scott Institute for Energy Innovation.
Related Links: College of Fine Arts | School of Architecture
---