Energy and America's Future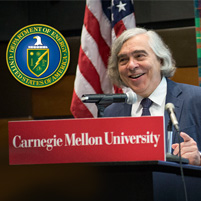 Secretary Ernest Moniz
Panel experts included Scott Institute co-director, Dr. Andrew Gellman
U.S. Department of Energy Secretary Ernest Moniz visited Carnegie Mellon University on Monday, July 21, to lead a public meeting on natural gas and its role in America's energy future.

The DOE forum, part of the Quadrennial Energy Review (QER) established earlier this year by U.S. President Barack Obama, was hosted on CMU's Pittsburgh campus by the Wilton E. Scott Institute for Energy Innovation.

In his opening remarks, Moniz addressed the challenge of developing infrastructure to carry natural gas from the Marcellus Shale to areas where it is in demand, saying that with the shift in production to the Pittsburgh region, infrastructure must "catch up with a whole bunch of issues about gas and oil flowing in very different directions from source to market."

Leaders in the oil and gas industries, state and local officials, union leaders and researchers also weighed in on several panel discussions.

The panel experts included Carnegie Mellon's Andrew Gellman, Lord Professor of Chemical Engineering and co-director of the Scott Institute, who spoke on the advantages of using "wet gas" to produce feedstocks for manufacturing. He emphasized the importance of thinking outside the energy generation box when planning future uses of natural gas.
 
"We are in the enviable situation of being able to decide what to do with natural gas. We can burn it to create heat and energy, we can sell it to make money, or we can think long term and try to use it to make chemicals," said Gellman.
 
Congressman Tim Murphy, member of the U.S. House Energy and Commerce Committee, also took part in the event.

"Pittsburgh is the ideal location to discuss anything with energy," said Murphy, adding a challenge to students in the audience. "If you are the one who comes up with a way of improving the amount of energy we get out of a lump of coal … not only will you probably win the Nobel Prize, but you may even become the world's first trillionaire."

The Scott Institute was established in 2012 with a founding gift from CMU alumni Sherman Scott (E'66), president and founder of Delmar Systems, and his wife, university trustee Joyce Bowie Scott (A'65). Additional support for research in energy was provided by a generous grant from the Richard King Mellon Foundation of Pittsburgh in 2013. CMU President Emeritus and University Professor Jared L. Cohon serves as director.

The institute, which leverages the expertise of more than 100 faculty and researchers across CMU's seven schools and colleges, is focused on improving energy efficiency, expanding the mix of energy sources in a clean, reliable, affordable and sustainable way and creating innovations in energy technologies, regulations and policies.

Secretary Moniz's predecessor, Steven Chu, visited CMU in 2012.
Related Links: Wilton E. Scott Institute for Energy Innovation | Secretary of Energy Steven Chu Visits | Leading Energy | PSC Connecting Event
---