Innovative Aromatics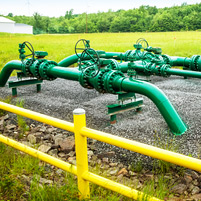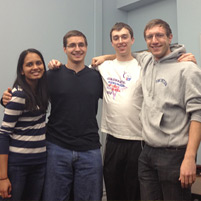 [l-r] Neha Nandakumar, Edward Smongeski, Graham Spicer, Benjamin Hauser
A team of chemical engineering students at Carnegie Mellon University evaluated new ways of transforming valuable natural gas liquids from Marcellus Shale deposits into aromatic chemicals.

These chemicals could then be used in the manufacturing of plastics, dyes, pharmaceuticals, and many other products.
Traditionally, these intermediates are obtained from crude oil.
"It was a pretty creative project where we took an existing process as guidance and used it to invent our own new, innovative process," said team member Neha Nandakumar (E'13).

The team was required to design an entire process plant and perform a technical analysis in which they calculated the chemical details of the plant through heat and material balances.

"This ensured that whatever new process we came up with was in fact feasible in the real world," Nandakumar said.

They also conducted an economic analysis to calculate various manufacturing and capital costs that would exist when building this plant to ensure economic viability.

"I think it was interesting that the project was set up such that we were consultants on a project. We had to write three memos explaining our decisions and supporting them through our engineering calculations," she said.

Ben Hauser (E'13) really enjoyed the project, which was part of the Chemical Process Systems Design class taught by CMU faculty members Ignacio Grossmann and Jeff Siirola.

"I think the courses I've been taking do a good job teaching you how to make the right decisions in regards to designing," Hauser said. "We brought back knowledge from previous classes and research and used that information to do things differently from the standard, and in that way, we made it a more efficient and profitable process."

Nandakumar says the project is just one of many creative and interesting opportunities for women in science on campus.

"There are many organizations like Society of Women Engineers that enable you to go out into the Pittsburgh community and make a difference," she said. 

"I think engineering is a great way to make an impact on the world," she added. "We live in a time of immense technological growth, and studying engineering enables you to be a part of that and contribute to that change right now."

Over the coming decades, the world must make fundamental transformations in how energy is used and produced.
CMU professors are developing technologies and policies that can help broaden the mix of energy sources, while managing carbon emissions and ensuring that new forms of fuel such as shale gas are extracted responsibly.

Learn about ongoing CMU research in these areas by visiting the Scott Institute for Energy Innovation.
Related Links: College of Engineering | Chemical Engineering | Society of Women Engineers | Marcellus Shale Drilling | Fracking and Shale Gas Experts | Environment at CMU
---