Engineering the Environment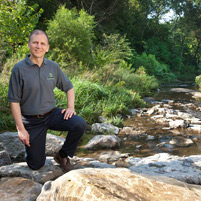 David Dzombak
David Dzombak has built his career on being aware of global environmental issues, challenges and progress.

He will use that expertise to help lead Carnegie Mellon University's department of Civil and Environmental Engineering (CEE).

As the new head of the CEE department beginning Aug. 1, Dzombak said he looks forward to leading faculty and students into the next frontier.

"Our faculty and students are thinking about entirely new approaches to addressing the infrastructure renewal, urban development and sustainable energy challenges of the coming decades," said Dzombak, the Walter J. Blenko, Sr. University Professor of Civil and Environmental Engineering.

"Thanks to the hard work of the CEE faculty and staff and the outstanding leadership of Jim Garrett over the past seven years, the CEE department is strong in all aspects of our mission, including education, research and service."

An accomplished researcher and educator, Dzombak is in his 25th year as a member of the CEE faculty. He started as an assistant professor in 1989 and advanced through the academic ranks to full professor.

Since 2006, Dzombak has served as the faculty director of the Steinbrenner Institute for Environmental Education and Research. He will be stepping down from that role this summer. He currently is serving as interim vice provost of Sponsored Programs.

In 2010, Dzombak was elected a University Professor, the highest academic distinction a faculty member can achieve at CMU.

Among his numerous accolades, Dzombak was named a fellow of the Water Environment Federation in 2012. The honor identifies individuals for outstanding accomplishments. He has conducted more than two decades of leading-edge research in the areas of aquatic chemistry, water quality engineering, and environment and energy. He was elected to the National Academy of Engineering in 2008 and is also a fellow of the American Society of Civil Engineers.

Recently, Dzombak and the University of Pittsburgh's Radisav Vidic were recognized by the American Academy of Environmental Scientists and Engineers (AAEES) for finding a way to use treated municipal wastewater as makeup water in cooling systems for thermoelectric power plants.

Every day, water-cooled thermoelectric power plants in the U.S. withdraw more than 200 billion gallons of fresh water from rivers, lakes, streams and aquifers.  The CMU-Pitt research shows that treated municipal wastewater is a common and widely available alternative source of cooling water for thermoelectric power plants across the U.S. However, the biodegradable organic matter, ammonia, carbonate and phosphates in the treated wastewater pose challenges, including fouling and corrosion issues.

Dzombak, Vidic and graduate students from CMU and Pitt investigated addressing these challenges. Their work received the 2013 Grand Prize in the University Research category of the AAEES Excellence in Environmental Engineering and Science competition.
Related Links: College of Engineering | Dept of Civil & Environmental Engineering | About David Dzombak | Environment at CMU
---