Back to the Future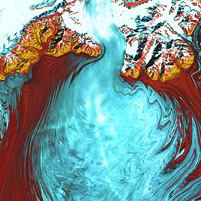 Ever dream of going back in time? With Timelapse, you can explore nearly 30 years of historical satellite Earth images — zooming in and out at any spot on the globe, while moving back and forth in time.

Witness the melting of Alaska's Columbia Glacier, the deforestation of the Brazilian Amazon or the sprouting of Dubai's artificial Palm Islands. The images relay a dramatic story — both awe-inspiring and troubling.

Time Magazine's new Timelapse website — a collaborative project involving TIME, Google, NASA, the U.S. Geological Survey (USGS) and Carnegie Mellon University's Robotics Institute (RI) — builds and expands on a series of earlier projects.

Timelapse utilizes imagery from NASA's Landsat program, an ongoing series of high-resolution satellite images monitoring humanity's affect on our planet. It was begun in 1972 and made available to the public in 2008.

Because accessing these images — measured in quadrillions of bytes — is understandably cumbersome, Google sought to improve this image retrieval by amassing the largest library of Landsat imagery on hard-drive storage via its Google Earth Engine.

Last summer, CMU RI researchers, working with Google and the USGS, enhanced the public's ability to view 13 years of this massive database using CMU's GigaPan Time Machine technology, transforming the archived images into a set of seamless videos, easily accessible from a Web browser.

GigaPan Time Machine, developed with Google's support, was itself based on the earlier collaborative GigaPan project, a technology for stitching digital pictures into panoramas that could be interactively explored. GigaPan Time Machine extended this ability into the realm of video.

Timelapse has now improved imagery and expanded the accessible year span from 1999–2011 to 1984–2012.

Randy Sargent, a system scientist in the RI's CREATE Lab and a visiting researcher at Google, played a key role in Timelapse's development, with collaboration from robotics researchers Paul Dille, Yen-Chia Hsu and Chris Bartley, robotics professor Illah Nourbakhsh and others.

Sargent and other members of the Timelapse team sifted through more than two million Landsat images — a whopping 909 terabytes of data — to find the highest quality, cloudless images of every spot on Earth. These were combined into enormous planetary images, 1.78 terapixels each, for each year. The CREATE Lab researchers then converted the images into seamless animation.

More than just a fascinating new technological resource, the researchers hope that this online tool will help the global community better understand the changes occurring on our planet — now and through time.


Photo: The tongue of the Malaspina Glacier, the largest glacier in Alaska. The Malaspina lies west of Yakutat Bay and covers 1,500 sq miles.
Related Links: Read press release | School of Computer Science | Robotics Institute | 2012 press release
---