Power to the Grid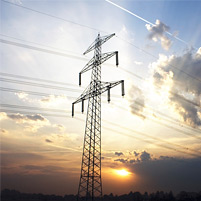 Carnegie Mellon University researchers are working to help utilities keep the lights on even during peak electricity demands.

To do this, Carnegie Mellon University's Marija Ilić and her team are creating a "smart grid in a room" test bed.

Ilić, a professor of electrical and computer engineering (ECE) and engineering and public policy, is leading a research team to show that with careful design of IT-enabled, data-driven protocols and the introduction of more interactive binding protocols between traditional utilities and new technologies it's possible to provide electric power reliably and efficiently.

"This hybrid setup has the potential to realistically mimic a large electric energy system with data collected from real-world instrumentation that would ultimately be able to help determine the value of new technologies and their impact on the quality and cost of electricity services, sustainability and potential for reducing pollution," said Ilić, head of the Electric Energy Systems Group.

Ilić calls the newly evolving cyber-physical energy systems intelligent Dynamic Monitoring and Decision Systems, and she's using a three-year, $1.2 million grant from the National Institute of Standards (NIST) to develop a one-stop shop to demonstrate and test this framework. The goal is to show how it can be used to design more efficient and reliable smart grid technology.

"The modular interactive approach we will be using is clearly the best method to design microgrid hardware facilities by interconnecting existing modules and providing them with the right embedded intelligence and information exchange with the others," Ilić said.

Steven R. Ray, a team member and distinguished research fellow at CMU-Silicon Valley, emphasized the importance of this research for helping develop standards for the electricity sector.

"Our research is critical for helping to improve power grid efficiency and security," said Ray, formerly with the NIST.

Ilić pointed out that many other ongoing CMU experiments related to the smart grid could be linked with the new simulator.

Additional CMU faculty working on the project include Franz Franchetti, associate professor of ECE; Soummya Kar, an assistant research professor of ECE; Jose M. F. Moura, director of the CMU Portugal program and a University Professor of ECE and Biomedical Engineering; and Jovan Ilić, a scientific specialist and adjunct faculty in ECE.
These experts and others are among more than 100 CMU faculty working together across disciplines to solve the world's toughest energy challenges through the university's Wilton E. Scott Institute for Energy Innovation.
Related Links: Electrical and Computer Engineering | Wilton E. Scott Institute for Energy Innovation | Engineering and Public Policy | Electric Energy Systems Group | CMU-Silicon Valley
---