Greening Up JFK
diagram
Click to view larger version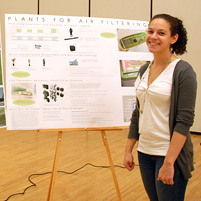 Anna Rosenblum
A layover at JFK International Airport could actually be quite refreshing if you could breathe cleaner air in a literally green room.

That is Carnegie Mellon University architecture student Anna Rosenblum's idea: an airport terminal extension that uses walls and roofs made of aeroponic plants that filter and clean the polluted outdoor air before it enters the indoor ventilation system. 

"The T4 Terminal Extension seeks to provide an improved indoor environmental quality for passengers and employees," said Rosenblum (A'13). "The outdoor air is contaminated with petroleum, jet fumes, and other toxins, and so the intake air must go through a rigorous cleansing process."

The plants that make up the green walls and green roofs are grown using a special method called aeroponics.

"Aeroponic plants do not have a growing medium such as soil or water. Instead, their roots are directly exposed to the air. These plants receive their nutrients through a special nutrient spray that is administered to the plants on a timer, directly to the top of the root zone," Rosenblum explained.

The reason for using this particular growing method is because it is actually the rhizomes on the roots that digest volatile organic compounds (VOCs), particulate matter and other toxins.

"When the roots are not restricted by soil, they are able to grow bigger and healthier. When the air is directly exposed to this bigger, fuller root zone, it increases their air cleaning capacity by 200 to 300 percent," she said.

Her proposed design for the T4 Terminal Extension creates a plenum in the walls and roofs where the roots are allowed to sit freely. The air is directly exposed to the roots in these plenum zones, and is directed through them like ductwork.

"The green roofs work to filter the intake air, and although they will need some help from a mechanical system, these plants will still have a great impact on the air as it is brought into the terminal," she explained. 

Based on her research, the green walls should be able to clean and filter 100 percent of the return air within the space, therefore greatly reducing or eliminating the need for mechanical filtration.

"If this system works as well as the research has shown, then the terminal would be able to take in less air from the outside, which would reduce the loads on the mechanical systems, and continue to clean and recycle the indoor air, creating an enjoyable space for passengers that has fresher, cleaner air as well as a connection to nature."

Rosenblum initially presented her project at the Steinbrenner Institute for Environmental Education and Research (SEER) Environmental Expo. The expo exhibited environmental art projects, service projects, and research being done by the CMU campus community.

She's scheduled to propose her idea to the architecture firm of SOM (Skidmore, Owings, and Merrill) who designed JFK's T4 Terminal Extension — which is already under construction. And Rosenblum is hopeful that she'll be able to see her project come to life.

With 10 Silver or Gold LEED certified (green) buildings — including the nation's first green dormitory on its Pittsburgh campus — CMU maintains its longstanding commitment to the environment and a sustainable energy future.

Most recently, the university announced it will purchase green power to offset 100 percent of the university's electric consumption for 2012.

"We practice what we preach," said CMU president Jared L. Cohon. "Carnegie Mellon is committed to sustainability in education, research and our own practices."
Related Links: School of Architecture | Every Day is Earth Day | Environment at CMU | Energy at CMU
---