Sustainable Architecture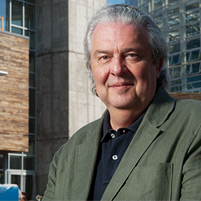 Stephen Lee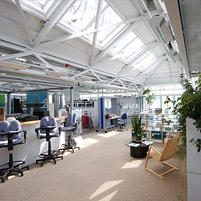 Inside the Intelligent Workplace
Good, open communication helps to spark ideas. And students across disciplines say they appreciate it in Stephen Lee, professor and head of the School of Architecture at Carnegie Mellon University.

A multidisciplinary team of CMU students chose him as their adviser for the Department of Energy Competition to Promote Energy-Efficient Buildings.

Together they won "Best Proposal" for the Walter Reed Army Medical Center site in the District of Columbia, beating out stiff competition from Harvard, MIT, Dartmouth, Georgia Tech, Duke, and Texas A&M.

The CMU team members represented the School of Architecture, Heinz College, the College of Engineering and the Tepper School of Business.

"Stephen can bring together the theoretical and the practical because he does research and has his own practice," said team member Erica Cochran, Ph.D. Candidate, Building Performance and Diagnostics, in the School of Architecture. 

"And we really wanted an adviser that would be interested in a good dialogue of ideas, a lot of critiquing. He never criticized. He listened to our opinions, gave us a lot of food for thought, and let us take it from there."

Lee says he is living his life's dream. He wanted to be an architect all his life. But to him, that doesn't just mean practicing. It includes equal parts of teaching and research as well.

"I find each one informs the other, and, I think, makes me more effective as an architect," he said.

Lee is not only an architect but has also been coined one of CMU's "energy experts" across the university working together to solve the world's toughest energy challenges through the Wilton E. Scott Institute for Energy Innovation.

He was project manager for the construction of the university's flagship building research lab, the Robert L. Preger Intelligent Workplace (IW) when it was designed and built from 1991 to 1997. It's a living laboratory, meaning it's continually being updated to feature advanced systems, components and materials.

And it's a lived-in laboratory, too — occupied by "real" workers and organizations.

"I firmly believe in the power of education as a way of taking the things that I believe and broadening the number of people who are practicing that way," Lee said.

"I've always tried to be, as an educator, someone who inspires my students to achieve lofty goals."

Cochran worked with Lee and other advisers to obtain a $118,000 grant and received Lee's approval to use it to invent a new class.

"Stephen has an open door policy, which is great, and I walked into his office one day and said 'I'm here to pitch a new class on saving energy through retrofitting," Cochran explained. 

"I wanted case studies, where students would go out and review buildings. And Stephen let us use his firm. I don't know how many people would open their firm to something like that."

She added, "I admire what he does. Having your place in a university as well as in the real world makes you better with clients because you understand what is cutting edge."
Related Links: School of Architecture | Scott Institute for Energy Innovation | Environment at CMU | Read more about the winning proposal
---