Furnishing Solutions
Bulding with Bottles: Clinton Global Initiative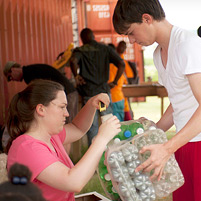 Dara & Brett Perl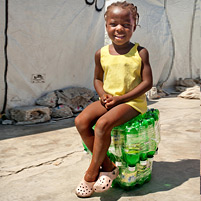 Testing the stool
The Haiti earthquake in 2010 caused severe damage and left many in Port-au-Prince disabled and jobless.

Brett Perl (A'15), an architecture student at Carnegie Mellon University, and his sister, Dara, brainstormed an idea for cleaning trash in the street while making needed furniture and providing the disabled with a sustainable income.

"Empty plastic bottles are littered everywhere in Port-au-Prince," said Perl. "This overabundance of trash creates an opportunity to re-purpose the plastic bottle garbage. We developed a business model that will generate ongoing employment for many disabled individuals or caregivers of disabled children, who are living in Internally Displaced Persons (IDP) settlements."

Prior to the earthquake, the disabled had little choice for employment and were often relegated to begging in the street. Post-earthquake, the disabled seem to have been even further marginalized in Port-au-Prince, according to The Afya Foundation, which collects donations for the project.
   
The earthquake left millions of individuals without basic furniture for their homes. And the furniture that is available for sale is unaffordable for the majority of Haitians.

As a means of removing bottles from the streets, piles of them are burned and noxious gases from the plastic are emitted into the air.

Perl and his sister collected 41 empty water bottles from the ground, taped them together and created a modular stool. Then, they tested the plastic stools with the citizens, who reported that the stools were sturdy and comfortable.

Many immediately asked if they could have a stool, or the supplies needed to begin construction.

"The stools get people off of the ground, which is especially important during the rain and hurricane seasons," Perl said. "And then, we found that we can take 10 stools and connect them to construct a bed. There are countless ways to potentially connect these modular stools into vitally needed furniture."

The program will train and employ disabled Haitians to make furniture from the empty bottles and sell the furniture for a profit.

The project was recognized personally by former President Bill Clinton at his Global Initiative Conference and has received support from Steve Ballmer, CEO of Microsoft, through the current Give for Youth Campaign.
Related Links: School of Architecture | Rebuilding Haiti | Sustainable Architecture | CMU's Global Presence | Scott Institute for Energy Innovation | Environment at CMU
---