Climate Change Conversation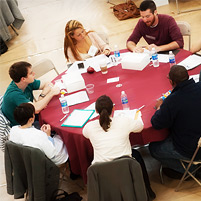 As "mini-cities," universities can be a driving force to reduce greenhouse gas emissions.

Carnegie Mellon University was recently the site for a 'Campus Conversation on Climate Change,' hosted by the Program for Deliberative Democracy (PDD), an initiative of CMU's Center for Ethics and Policy within Dietrich College's Department of Philosophy.  

The event attracted more than 100 participants from nine different Pittsburgh colleges and universities. Using the principles and practices of deliberative democracy, the students spent the afternoon engaged in roundtable discussions and addressing questions to an expert panel session.

And CMU has set an example for other regions. Colleges and universities across the country will be hosting their own deliberative democracy events on climate change throughout the fall.

"Our goal was to get students between Pittsburgh campuses talking to campus administrators and the community about what universities can do to ensure a sustainable future for the region," explained Linda Timko (DC'13), an Ethics, History and Public Policy major and one of the event organizers.

Panel experts included Erika Ninos, of CMU's Steinbrenner Institute for Environmental Education and Research, and Brinda Thomas, a post-doctoral fellow in CMU's Center for Climate and Energy Decision Making.

"It's not just about looking at an environmental movement. It's a whole paradigm shift to a grassroots approach on how to solve problems," said city councilman Bill Peduto in his opening remarks. "The ideas that will push Pittsburgh will come from the universities."

Issues raised during discussions ranged from the use of an interdisciplinary approach to address climate change, to sustainability careers, and to the effectiveness of small-scale efforts.

"There is so much research in this area happening here at Carnegie Mellon," said Thomas. "I also think small campus initiatives are great ways to give students the tools to address problems that they see."

Timko added, "And having larger discussions about food waste, and energy and water usage in dorms can have a significant impact on a greater number of students."

CMU has a longstanding commitment to the environment and a sustainable energy future, with 10 Silver or Gold LEED certified (green) buildings, including the nation's first green dormitory on its Pittsburgh campus. CMU has also announced it will purchase green power to offset 100 percent of the university's electric consumption for 2012.

And most recently, the university launched the Wilton E. Scott Institute for Energy Innovation, a major research and education initiative focused on improving energy efficiency and developing new, clean, affordable and sustainable energy sources.
Related Links: Read more about the event | Wilton E. Scott Institute for Energy Innovation | Environment at CMU | Dietrich College
---