Green Up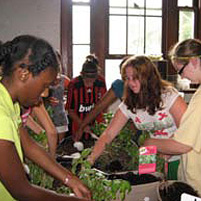 Using heat lamps and a couple of shingles, two Carnegie Mellon students gave an effective "green roofs" demo to a group of middle school girls.
The goal? To inspire them to pursue careers in civil and environmental engineering.
Jennifer Frazier (E'12) and Natalie French (E'12) are passionate about the field of study — and they hope more women will pursue it.
"We used the heat lamps to represent how the sun would heat two different kinds of roofs: a regular shingle roof and a shingle roof with a miniature green roof on top," French explained.
"After heating the two roofs for about half an hour, the girls were able to feel the difference in temperature between them and feel how the green roof added insulation."
The activity was part of the Summer Engineering Experience (SEE) for girls. It's a two-week program that gives middle school girls an opportunity to explore multidisciplinary engineering activities focused around the theme of energy.
Following a brief lecture, each girl was given the opportunity to build her own "green roof."
"To do this, we gave each girl a small tray, materials to represent each layer of the green roof, soil and herbs," Frazier said.
They wrapped up the activity by taking them on a tour of the green roofs on CMU's campus.
Throughout the experience, French said the girls were comfortable sharing their knowledge, thoughts, and questions about green roofs.
"By the end of the day, they were using technical green roof terms with ease," she said.
"They were all bright, hard working, and team-oriented. The girls were also very environmentally-conscious and genuinely wanted to learn how to use engineering to make a difference in the world," said French.
"The SEE experience gave them the knowledge and confidence they will need to pursue engineering further," French added.

Managed by Alicia Brown Angemeer, the SEE program is offered by the Institute for Complex Engineered Systems (ICES), a multidisciplinary engineering institute within the College of Engineering.
"I believe in empowering girls, especially in engineering and green technology, because these girls can have a huge impact on the future of our planet," said Frazier.
She acknowledges that problems such as developing sustainable energy and reducing air and water pollution are daunting to face.
"Through activities like this one, girls can begin to understand the importance of these issues, so that they feel compelled to continue their learning, and perhaps even pursue a career in engineering and green technology," Frazier said.
"Girls need to know that they can make a difference."

Related Links: Steinbrenner Institute | Civil & Environmental Engineering | ICES | College of Engineering
---