Diesel vs. Gas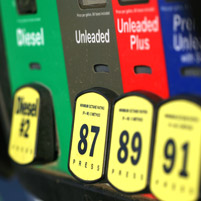 A new Carnegie Mellon University study reveals that cars with diesel engines are a better value than gas cars.
Despite the sticker shock at purchase, these vehicles have lower operating costs and higher resale value over time.
The study was conducted by researchers at CMU's Tepper School of Business and underwritten by Bosch.
Not only were diesel cars more fuel efficient but their residual value was up to 30 percent higher than traditional gasoline vehicles.
"It's been generally known that diesel vehicles typically post lower operating costs because of their increased fuel economy," said Professor Lester Lave.
He continued, "But that's only one element of the equation. Our study considered a vehicle's initial price and resale value along with other operating and maintenance costs."
Lave is the University Professor and Higgins Professor of Economics at Carnegie Mellon University's Tepper School of Business.
The study also found that the difference in vehicle price could be recouped in less than 18 months.
Clean diesels also deliver on average of 30 percent better fuel economy than their gasoline counterparts.
All of this translates into savings for the consumer, says Lave.
The researchers used auction data on passenger cars and light-duty trucks from Manheim Auctions and Cox Enterprises Inc.
The team compared actual resale values with the total cost of owning and operating diesel- and gasoline-fueled vehicles.
Bosch manufactures clean diesel fuel injection systems. Lave says the company was looking for real-world independent research conducted in this area.
"Past studies only highlighted projected costs from resale values," said Lars Ullrich, director of marketing for Bosch Diesel Systems North America.
He added, "This research provides a more robust set of data to support the conclusion that clean diesel vehicles provide a comparatively lower cost of ownership."
It also gives consumers more insight when buying a new car.
Related Links: Tepper School of Business
---