Ford Leadership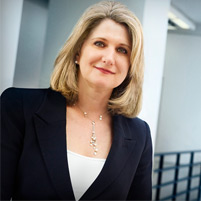 Barb Samardzich (E'85)
Barb Samardzich (E'85), an alumna of Carnegie Mellon University's College of Engineering, has just begun her new role as vice president of product development at Ford Motor Company in Europe.
Building on more than two decades with the company, she is leading the effort to launch at least 20 new or refreshed vehicles over the next two years — and ensuring fuel economy is a reason to buy.
"I had a lot of great professors at CMU, but I think overall it was the great foundation that CMU provided for me that was of the most value — good, critical thinking skills and a solid foundation about problem-solving," she said.
She tells a lot of young people looking for career tips that, first, you should really focus on becoming the best engineer you can become.
"The environment and the facilities and the world class faculty at CMU really enabled me to do that," she said. "And the personalized service. That was important."
With fuel efficiency high on the priority list of customers worldwide, Samardzich explains that she approaches it from two perspectives.
"First, we look at the regulation in play. Every country's government has its own rules and regulations for fuel efficiency, but what we find more important now is the consumer's expectations," she said.
"Consumers are increasingly making environmentally focused purchase decisions, and our role is to provide them with great products that support both their value equation and their desire to be green."
She says customers are making sure they're making the most fuel-efficient decision they can possibly make.
"It's become number one priority and we like to think we're really playing into that need for consumers. One of the top priorities for delivering to our customers is when they look at our product, they say, 'wow, what was that?! I gotta check that out!' and then after that, we are making fuel economy a reason to buy."
Samardzich says that, overall, Ford is a company that takes its environmental responsibilities very seriously.
"We really want to make a tangible difference in our carbon footprint. But it also has to be affordable technology for our customers."
Samardzich gained her fame for leading Ford's drive to improve transmission quality and for overseeing the relaunch of the Ford Mustang.
She was named by Automotive News as a 2005 Leading Woman in the North American Automotive Industry, and in 2004 she was awarded the Design News Magazine "Women in Engineering Top Achievement Award."

Related Links: Announcement | Ford.com | College of Engineering
---