Consumer Awareness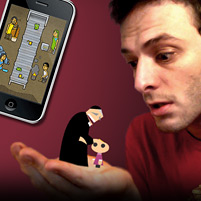 Our ever-growing lust for the "new gadget" is of major concern to Carnegie Mellon University's Paolo Pedercini.

So he created Phone Story, an iPhone game that raises consumer awareness about serious issues with manufacturing practices and electronic waste.

"The game is meant to be an easy introduction to very difficult issues," he said.

The challenge of the game is to make sure that the production process flows smoothly through four mini-games.

Citing the Foxconn suicides as an example, he explained, "The player, or consumer, assumes the role of the exploiter, becoming symbolically complicit with these disturbing realities."

He continued, "The game mirrors the eternal cycle of planned obsolescence and keeps repeating itself, getting slightly harder every time a new product is launched."
 
Pedercini says the gesture of making the game available only on smart phones was, to him, the most meaningful aspect.

"I wanted to make a little app that people can keep installed on their phones as a reminder of what lies beneath that shiny surface," said the assistant professor of art.

On the game's website the player can find additional information, sources, links and references to the many initiatives that attempt to solve these problems.

"I provide these resources because this project is not just about feeling guilty as privileged Westerners," he said.

"There are ways to prevent mining activities from fueling local wars in the Congo. We can reduce electronic waste if we are willing to introduce regulations and extend the manufacturers' responsibility over their products. And so on."

The game was quickly banned after it became available for sale on the Apple store (read the New York Times article).

Pedercini currently is completing a narrative game about the life of a fictional pilot of unmanned aerial vehicles — or drones. He has also begun to design a game for an international campaign for nuclear disarmament.

As for his students, he says his experimental game design class has a fairly broad scope.

"It's both about understanding games and their role in society, and about designing games using both digital and non-digital tools," he said.

Pedercini says while his students have the chance to develop useful technical skills in his class, the goal is not to produce cannon fodder for the entertainment industry.

"I want them to explore the expressive potentials of this cultural form, to think about game-making as an art and craft," he said.

"I don't want people to stop buying smart phones. That's nonsense," he added.

"But maybe we can make a little contribution in terms of shifting the perception of technological lust from cool to not-that-cool. This happened before with fur coats, diamonds, cigarettes and SUV, I can't see why it can't happen with iPads."
Related Links: Read the NYT Article | School of Art
---