Sustainable Education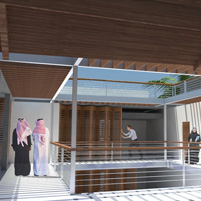 Doha, the capital city of Qatar, is growing exponentially. And Carnegie Mellon University architecture students are exploring ways to meet its building needs sustainably.
"Seemingly overnight, Doha has gone from a quiet village to a burgeoning metropolis," said Kelly Hutzell, a CMU assistant teaching professor.
She added, "The challenge will be to manage this growth so that it is economically, ecologically and culturally viable."
Hutzell and her husband, Rami el Samahy, hold joint appointments teaching at CMU in Pittsburgh and Qatar. And they are exploring this fast-paced change with their students.
"Much effort has gone into make buildings sustainable over the past three decades — with a lot of that work pioneered at CMU. Through our focus on sustainable urbanism, we're expanding that work to the scale of the city," added Hutzell.
Hutzell and el Samahy recently spearheaded an intriguing project. Students developed strategies to retrofit an existing villa — the headquarters of the newly formed Qatar Green Building Council (QGBC).
The Pittsburgh-based students involved were fourth-year architecture majors, participating in the School of Architecture's study abroad program.
"The project compelled them to think about design and sustainability in an unfamiliar environment," said Hutzell. "They had to learn not just about the climate but also the culture of this new place."
Alexandra Legrady is one of those students who enrolled in the project. She enjoyed working with the guests from KEO and Arup in finding a design that was both suitable to the Middle Eastern climate as well as aesthetically fitting with an adapting culture.
"It provided a great opportunity to adapt a typical residential villa into an office that would showcase sustainable practices," Legrady said.
"I think green building design is fundamental in any design. Without consideration of the environment, we are wasting energy when there are already resources we can utilize."
Hutzell also describes the opportunity as unique for the Qatar-based students, who are enrolled in computer science, information systems and business programs. They explore the topic through the "Architecture for Non-Majors" course.
Through projects for an outdoor learning pavilion at the QGBC, the students learned similar concepts around design and sustainability.
"In a country where 40 percent the working population is employed in the construction sector, this was an important part of their education," explained Hutzell. "They learned to think like an architect."
Hutzell and el Samahy continue to practice their craft with their Boston-based design firm over,under. They believe their industry work enriches their educational approach.
"The lessons we glean in practice, we then pass on to our students — and vice versa. The lessons learned from our students have altered what we research and how we practice," Hutzell said.
Both she and el Samahy are excited to be part of an academic community at the cusp of environmentally conscious design.
"Carnegie Mellon's School of Architecture has long been at the forefront of sustainable education," she said. "Its emphasis on design and research, and the real world application of both, are what allow the program to be so highly regarded."

Related Links: CMU in Qatar | School of Architecture
---