Golden Opportunity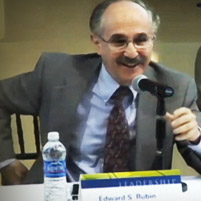 CMU professor and Nobel Laureate Ed Rubin
Chris DiAndreth was mulling over the list of course offerings when the name of a certain Carnegie Mellon University professor caught his eye: Ed Rubin.
What an opportunity, he thought. A chance to learn firsthand from a Nobel Laureate.
Rubin shared the Nobel Peace Prize in 2007 as a member of the Intergovernmental Panel on Climate Change, alongside Vice President Al Gore.
DiAndreth quickly enrolled in Rubin's class on energy and the environment.
A junior majoring in chemical engineering and engineering and public policy, DiAndreth first came across Rubin's work in a Global Warming Economics class he was taking.
They were learning about carbon dioxide sequestration for coal power plants and reviewed a selection of Rubin's papers on the subject matter.
DiAndreth says the papers provided him with new ways of thinking about the complex issue. But he wondered if it would translate to the classroom.
"It occurred to me that being a Nobel Laureate might not necessarily mean being a great lecturer. But in Professor Rubin's case, he truly is one of the best teaching professors I've had here at Carnegie Mellon," he said.
In fact, DiAndreth was so inspired by Rubin he is pursuing a career in the field.
"Professor Rubin is an amazing teacher who always finds a way to engage us," said DiAndreth. "He's always asking thought-provoking questions, which make the lectures extremely interesting," DiAndreth explained.
"And despite a busy schedule," he added, "Rubin is extremely personable and always willing to make time for his students and answer our questions, inside or outside class."
Given Rubin's expertise, DiAndreth is always eager to hear what Rubin thinks about particular energy technologies and their feasibility as climate change mitigation solutions.
"He sometimes gives his own two cents on the subject, but more often than not, Professor Rubin provides the encouragement and the information for us to develop our own opinions," DiAndreth said.
"By the end of the class I felt like I had been given the tools or stepping stones I needed to move forward in the field. His way of teaching very much inspired me and my future plans."
CMU has been home to 18 Nobel Laureates in five of the six categories. Learn more >>

Related Links: Read More: Publications by Rubin | Engineering & Public Policy | Wake-Up Call
---