New Water-Cleaning Treatment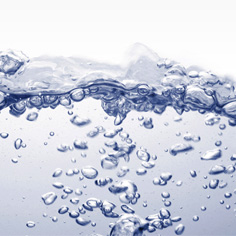 The high-demand for natural gas comes with a price: potential pollution resulting from the drilling process. Carnegie Mellon researchers are working to change that.
"The boom in drilling for natural gas across Northern Pennsylvania has created a potential flood for how water is handled safely and responsibly during the drilling process," said Professor Kelvin Gregory, an assistant professor of civil and environmental engineering.
Gregory has teamed up with University of Pittsburgh Professors Radisav Vidic and Eric Beckman to develop a system that will improve one method used by drilling companies — hydraulic fracturing.
The method allows gas companies to get gas from geological surfaces by pumping fluids at high pressure into the ground, fracturing the subsurface rock. This water returns to the surface as "flowback," with chemicals that are potentially harmful to the environment.
A large supply of natural gas beneath a layer of shale in Northern Pennsylvania, known as the Marcellus Shale layer, has been drilled by use of hydraulic fracturing. And a local town has filed a lawsuit challenging a violation of state environmental laws, alleging that drilling chemicals have escaped from gas wells where the process was used.
"We need to develop a system to minimize the disposal costs for gas producers and make water safe for all users," said Gregory, who is responsible for the development of a new remediation technology based on electrochemical cells.
The research team has been awarded a three-year, $1 million grant from the Department of Energy to develop a system to improve the use of hydraulic fracturing by drilling companies.
Because of environmental concerns, Gregory's team is evaluating a holistic approach for the treatment of flowback water, which utilizes Acid Mine Drainage water to remove toxic metals from the water and enables the reuse of hydrofracturing fluids. Reuse of these fluids is expected to greatly minimize the environmental risk from flowback water and reduce the volumes of freshwater withdrawn for hydraulic fracturing.
Related Links: Civil & Environmental Engineering  |  Environment at Carnegie Mellon
---