Design Sketches, Business Model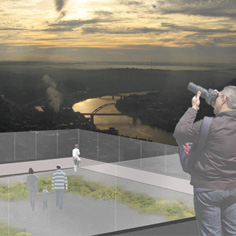 An empty, one-acre space sits atop the U.S. Steel Tower in downtown Pittsburgh. Carnegie Mellon researchers are looking into the hypothetical options for transforming the rooftop into a green, sustainable, all-weather, publicly accessible garden and viewing area.
"This rooftop venue could be a beacon for the progressive transformation the city has endured in the last few decades from a steel town to an innovative center for technology, art, education and green initiatives," said  David Bear, a fellow at Carnegie Mellon's STUDIO for Creative Inquiry, who is leading the project titled "The High Point Park Investigation."
      
To assist in this theoretical rooftop transformation, 275 Carnegie Mellon School of Architecture students and faculty participated in a four-day sketch competition, proposing creative and sustainable uses for the rooftop space. School of Architecture faculty will choose several of the more than 30 unique proposals to be used in an Institute for Social Innovation (ISI) student case competition at Carnegie Mellon's Heinz College.
Both architecture and ISI students must analyze the realistic potentials and costs of developing the space, while considering self-sustaining structures, future programming and marketing possibilities.
      
The competition challenged five teams of graduate students interested in social innovation and entrepreneurship to conduct a business analysis of these rooftop sketches. A panel of outside experts will judge presentations of these cases. Cash prizes will be awarded to the first- and second-place finishers.
      
"This is a wonderful opportunity to challenge and excite creative minds to think how this rooftop space can be used," Bear said. "We expect to get a lot of interesting material to help further our investigation and build research to support the reasons why this rooftop transformation could be important to the region."   
      
Designed by the firm of Harrison, Abramovitz & Abbe, the unique triangular design of the 40-year-old structure makes its roof the "largest in the world at its height or above," according to Daniel Kieckhefer of Emporis Gmbh, the leading international data company on tall buildings.
Bear envisions the rooftop facility as a local asset that showcases Pittsburgh as a regional, national and international leader in green innovation, redefining notions of public and private partnerships, and fostering re-evaluations of high rooftop use.
      
Architectural sketches and the competition results will be posted on the project's website.
Related Links: Green Roofs at Carnegie Mellon  |  Environment
---