Design to Be Built in New Orleans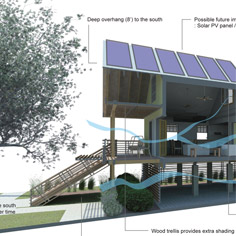 Wui-Joon Ha, a fifth-year architecture student at Carnegie Mellon University, is proving that living easy can be synonymous with living green. It's only fitting that his award-winning, energy-efficient house design will be built in the city known as "The Big Easy."
Ha is a national finalist for the U.S. Green Building Council's (USGBC) 2010 Natural Talent Design Competition. He designed an affordable Leadership in Energy and Environmental Design (LEED) Platinum house that will be one of four homes built in New Orleans' Broadmoor neighborhood this fall.
"I am particularly proud of Joon, as he successfully integrated design, technology and construction process in his prize-winning proposal," said Steve Lee, head of the School of Architecture at CMU. Lee has worked closely with Ha during his time at the university.
Ha, the only individual finalist, designed "E.A.S.Y. House" (Efficiency. Accessibility. Safety. You.), an ambitious project he tackled single-handedly. His design focuses on functionality and easy living; the house includes operable skylights, a green roof and a wheelchair lift.
"The house relies upon vernacular architectural traditions and natural conditioning strategies as a fundamental approach to sustainability. These concepts for performance are at the core of the School of Architecture's pedagogy," Lee added. "Joon is an excellent student in the school, having been on the Dean's list 7 out of 10 semesters."
Ha was on leave of absence for two and a half years completing his obligatory Korean military service. He re-joined the school in the fall 2009 semester, when he completed a Systems Integration Studio where he designed the house. CMU School of Architecture faculty Gary and Cherie Moshier recognized his studio project as among the best in the class.
The USGBC's Natural Talent Design Competition gives students and emerging professionals the opportunity to apply sustainable design principles to ongoing rebuilding efforts in New Orleans.
This year, the jury selected two students and two emerging professional teams for their designs for small, affordable, ADA-compliant (American Disabilities Act), LEED Platinum homes that demonstrated innovative green building principles that will save the homeowners money over the life-cycle of the home. Finalists' designs also took into account the Broadmoor aesthetic and the results of a neighborhood opinion poll.
Ha received local recognition for his design by the Green Building Alliance (GBA) in Pittsburgh.  GBA plans to honor Ha and his work with a reception Oct. 27.
Once built, the four homes will enter a measurement and verification phase in which they will be graded on several categories, including energy efficiency, water reuse and indoor air quality. The design team whose home performs best during measurement and verification will be awarded the final grand prize at Greenbuild 2011.
The competition is a collaboration with the Salvation Army's EnviRenew.
Related Links: View Ha's Design  |  School of Architecture
---