In Sub-Saharan Africa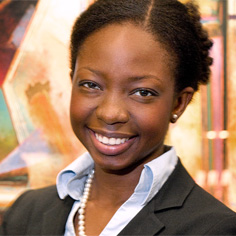 Carnegie Mellon University's Eyiwunmi Akinsanmi has received a prestigious Fellowship award from the Schlumberger Foundation.
Akinsanmi, 25, who is studying for a Ph.D. in the Department of Engineering and Public Policy (EPP), has become a fellow of the Faculty for the Future and was awarded a grant of up to $50,000 for the next three years for developing tools to solve the energy and development needs of Sub-Saharan Africa. Akinsanmi is from Nigeria.
"I am both excited and honored to receive this award. It means I get to focus my research on developing countries like I've always wanted," said Akinsanmi, whose Nigerian mother has been her greatest inspiration. Her mother taught English at an all-girl public school in Lagos, Nigeria, where Akinsanmi and her three sisters studied.
Akinsanmi said her research project ultimately will take her back to Nigeria where she wants to help solve the lighting problems currently suffered by millions of people with intermittent access to the electric grid. "I can still remember studying by a kerosene lantern and all the challenges that presented," she said. "I also hope through my Ph.D. to better understand opportunities for reviving the local manufacturing industry in Nigeria and reducing our nation's economic dependence on profits from oil."
"Eyiwunmi is a star student with a deep passion to make change in Africa," said Erica Fuchs, an assistant professor in EPP at Carnegie Mellon. "The expertise in photonics, manufacturing and the social sciences that Eyiwunmi is building into her Ph.D. will give her a powerful toolkit with which to make change."
"Carnegie Mellon's unique interdisciplinary atmosphere is the perfect place for me to explore these research thrusts, and the new fellowship grant is a great resource to help me meet my goals," said Akinsanmi, co-founder of Nigerians-for-Change, a non-profit foundation that focuses on providing educational opportunities for underprivileged children.
The Schlumberger Foundation for the Future fellowships are awarded to women academics in science and engineering from developing and emerging countries to encourage more young women to pursue scientific disciplines. Launched by the Schlumberger foundation in 2004, Faculty for the Future has grown to become a community of 142 women from 43 countries.
Related Links: Schlumberger Foundation for the Future  |  Nigerians-for-Change
---