The Great Outdoors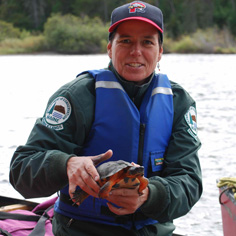 Eliza Townsend (A'85) grew up in Maine amid the sounds and smells of her family's farm. It was a childhood filled with hikes in the mountains, picking fiddleheads and canoeing. Now a mother herself, she is motivated to pass along her love for the outdoors to her children and grandchildren.
"People who don't know Maine might think of the coast and lobster," Townsend said. "But Maine is one of the most heavily forested states in the nation. Ten and a half million acres — more than half the land mass — has no local government."
So, in 1992, Townsend ran for the Maine legislature. She won and served four terms in the House of Representatives until 2000, when she became executive director of the Maine League of Conservation Voters, which lobbies for environmental causes. Then, three years ago, she took her advocacy back into the state House, this time by joining the Department of Conservation.
Townsend was recently appointed commissioner of state's Department of Conservation by Governor John Baldacci. She oversees 17 million acres of forest land, 10.4 million acres of unorganized territory, 48 state parks and historic sites, and more than 480,000 acres of public reserved land.
But just how did a theater degree from Carnegie Mellon help her get to where she is today?
"There's just no question that I learned skills during my work experience in theater that I use every day, even though they are wildly different fields. And those skills are vital," she said.
One of them is time management, she says. "That's a huge one. In theater, there's never enough time and never enough money, and in government, it's pretty much no different," she said.
Another important skill she learned: collaboration.
"If you work on a play and only one aspect is successful, that's not a successful production," she said. "So taking the attitude that everyone has to come out with a win is something I have definitely learned and applied."
Townsend feels lucky to have grown up in the state of Maine. "It's a beautiful place unlike anywhere else on the east coast," she said. "I want my children and grandchildren to know the Maine that I've known."
She added, "I do believe if you care about issues, you'd better get involved. And that involvement can take a variety of forms. In today and tomorrow's job market, knowing how to think, how to be a problem-solver, those are skills you can take to any job."
Related Links: Maine's Dept of Conservation  |  College of Fine Arts  |  Carnegie Mellon Today
---