Energizing the Nation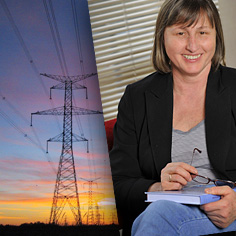 The electric grid of the future — or 'smart grid' — will employ cutting-edge technology to turn our nation's energy systems into an integrated, interactive network. And Carnegie Mellon Professor Marija Ilic is one of the brightest hopes for making it a reality.
"The smart grid is really an enabler of implementing sustainable resources," explained Ilic, a professor of both electrical and computer engineering, and engineering and public policy. "It should be reliable, responsive, efficient, environmentally acceptable, sustainable for businesses that provide necessary technologies, and have secure protocols for information exchange."
A respected energy systems scholar, the technically-focused Ilic came to Carnegie Mellon and its interdisciplinary environment to learn and develop in such areas as economics and policy. She quickly established the
Electrical Energy Systems Group
(EESG), a multidisciplinary team of faculty, researchers, and graduate students.
Now with approximately 30 students, the EESG works on numerous fronts, including curriculum development, research, a software laboratory, outreach programs and an
annual conference
.
"On the research side, our immediate goal is to work on solutions for implementing the smart grid," Ilic noted. "On the educational side, it's a very unique program, teaching students both technical and policy aspects of the industry and including unique courses on topics such as the smart grid, the future of engineering, and economic challenges in the changing industry."
Ilic's distinctive and growing program prepares students with valuable technical skills as well as an understanding of relevant political, economic and environmental issues.
"The students are not just entering this program to learn engineering," Ilic noted. "They are ultimately concerned with the greater good."
The EESG's popular conference provides a valuable forum for discussion and sharing of ideas and Ilic points out that collaboration between diverse entities from both industry and government is a necessity. She is currently in the process of putting together a Dynamic Monitoring and Decisions Systems (DYMONDS) consortium.
Ilic has recently been recognized by Carnegie Mellon with a Philip L. Dowd Fellowship Award and by the larger community as one of the top 100 'Movers and Shakers of the Smart Grid' by Greentech Media. She is also an honorary chaired professor at Delft University of Technology.
Being part of the Carnegie Mellon community has helped her to make it happen.
"People appreciate each other and go out of their way to show that, and that goes a very long way toward increasing the momentum internally," said Ilic. "This is striking to me after many years. You don't have the same feel at other places."
Related Links: Electrical & Computer Engineering  |  Electricity Conference  |  Engineering & Public Policy  |  Dowd Fellowship  |  Greentech Media Award  |  Environment at Carnegie Mellon
---