Epting Awarded Prestigious Fellowship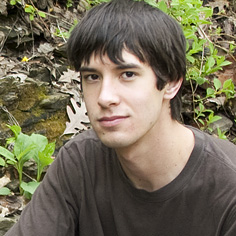 Billy Epting, a Ph.D. student at Carnegie Mellon University, was one of three Carnegie Mellon students awarded a prestigious EPA STAR Fellowship — supporting graduate-level candidates in environmental studies. Epting says his feelings of obligation to the environment were inspired by books like J. R. McNeill's Something New Under the Sun.
"If everyone read books like that, they would feel the same ethical obligation I do to protect the environment, and by extension, ourselves," Epting said. "But I also have a selfish reason, and that is I love being outdoors among diverse flora and fauna."
Among Epting's concerns: the unsustainable way humanity is meeting growing energy demands and its threat to global biodiversity.
"Sometimes the true cost of energy is hard to assess," he said. "Not only does species diversity deserve our care in its own right, but it provides vital, albeit not always obvious, support for the world's agriculture, forestry, eco-tourism and even medical research."
His hope is that advancements in proton exchange membrane (PEM) fuel cells, as well as advanced batteries, will someday mean a transportation sector with zero tailpipe emissions and a low lifecycle impact.
"The transportation sector accounts for about a third of U.S. emissions of CO2. What's more, U.S. auto miles driven are increasing at twice the rate of population, exacerbating urban air pollution and climate disruption," Epting explained. "As urban air pollution creates substantial public health problems, it is clear that a cleaner means of transportation is important to our future, both in cities and around the globe."
Fellow EPA STAR awardee Steve Rose — who is earning a Ph.D. in engineering and public policy (EPP) — is researching ways to smooth out the short-term variations in wind power without using energy storage.
"The short-term variations in wind power output are a problem for the electrical grid because they often happen too fast for conventional power plants to compensate for," he explained. "I am researching ways to design and control wind turbines and arrange turbines in wind farms to reduce variations in the power they produce. These methods use existing technology and may be cheaper than buying huge batteries to smooth wind power."
Also earning a Ph.D. in EPP is Eric Hittinger — this year's third EPA STAR Fellow. Hittinger is studying renewable energy integration, what technologies and policies we would need to greatly increase the amount of renewable energy in our electric grid. 
"Specifically, I focus on wind energy because that is the most favored technology in the near term.  But wind power has a lot of variability, which is undesirable from a grid perspective and must be dealt with somehow.  Thus, I am researching realistic methods to affordably smooth large amounts of wind power using dedicated gas turbines and energy storage."
Each year, students in the United States compete for STAR fellowships through a rigorous review process. Students can pursue degrees in traditionally recognized environmental disciplines, as well as other fields such as social anthropology, urban and regional planning, and decision sciences.
STAR fellowships are intended to help defray the ever-increasing costs associated with studies leading to advanced degrees in environmental sciences. Since the program began in 1995, EPA has awarded approximately 1,500 STAR that have helped educate new academic researchers, government scientists, science teachers and environmental engineers.
Related Links: Environment at Carnegie Mellon  |  Mechanical Engineering  |  Engineering & Public Policy  |  Watch: Reducing Carbon Emissions
---