Path to Success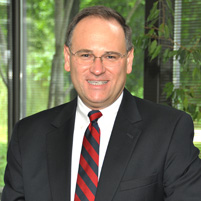 Wayne Balta (E'82) always loved math and physics and building things. As a kid, he was constantly building tree houses and forts and shacks in the woods. What better match for him than engineering as a career?
Born and raised in Pittsburgh, he wanted to remain in the area when it came time for college. Carnegie Mellon University was the natural choice, given Balta's great uncle Walter Talvick (E'31) who shared many stories about his own good fortune of attending the university during the Great Depression.
Throughout his career as a civil engineer, Balta found his CMU education to be extraordinarily valuable.
"At CMU, I learned how to learn," is something he tells people often. "Today's students should enjoy this opportunity in their lives to learn. It's a tough and demanding place. That toughness will eventually serve you well."
Balta worked for IBM on a wide range of facilities as a project manager for design and construction, including lab space, office buildings, a data center a wastewater treatment plant, and a 69kV electrical substation across Vermont, Maryland, New York and North Carolina.
After a few years of that type of work, the company needed a project manager for a groundwater remediation project in Indiana and Balta fit the bill. It was during this assignment that he became fascinated by all things environmental.
"Not only were there unique technical challenges involved in the characterization of a problem, as well as design and construction, but there was also a much greater intersection with law and regulation, government agencies and various third parties with an interest in the work," Balta said. "It was challenging, but I enjoyed it very much."
Today, Balta serves as IBM's vice president of corporate environmental affairs and product safety. The staff he leads oversees all of IBM's global intersections with the environment and sustainability along with energy efficiency, toxicology, chemical management, product safety and other regulated IT hardware compliance matters.
"The world cannot successfully develop without environmental responsibility," Balta said. "In my role, I'm involved with IBM's global business operations and with the types of integrated solutions we bring to market consistent with what we call 'A Smarter Planet.'"
Balta suggests for students to embrace challenges, build partnerships and collaborate with others. He also believes that people should practice being good listeners and improve their communication skills.
"And finally," Balta added, "point your ethical compass in the proper direction … and never, ever allow yourself to get lost in that regard."

Related Links: College of Engineering | Civil & Environmental Engineering | Environment at Carnegie Mellon
---