Balancing Act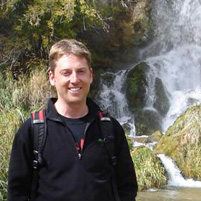 Environmental engineers work at the sometimes antagonistic border between corporations and the government — navigating between the needs for both prosperity and preservation of our natural environment.

Kelvin Gregory, assistant professor of civil and environmental engineering at Carnegie Mellon University, enjoys this delicate arbitration — especially when science has his back.
 
"Energy industries create the archetypal interface for environmental engineers. In today's Pennsylvania, the opportunities offered by our natural gas resources present a quintessential challenge that is enhanced by trying economic times," Gregory said.

His goal? Balancing those challenges and opportunities.

Gregory's research on water treatment and management during the hydraulic fracturing step in the Marcellus Shale drilling process is putting sound science and numbers behind strategies — strategies that aim to protect, and even improve, the status of natural resources in Pennsylvania while also enhancing the economic feasibility of harvesting those resources.
 
Through his work with nanotechnology, Gregory will provide an enhanced understanding of the critical factors that affect the environmental fate and potential for toxicity of nanomaterials. 

"Our nanotechnology work will serve as a guide for development of new nanomaterials that retain their chemical properties necessary for manufacturing while minimizing their potential for unintended, detrimental impacts on human or environmental health," he said.

Gregory is part of an interdisciplinary team of researchers recently awarded a $3.15 million grant from the National Science Foundation (NSF) studying the environmental effects and policy implications of nanotechnology. He  enjoys working at CMU mainly because of the people.

"I love walking into a meeting and knowing that I'll be enriched in some way at the end," he said.
 
As an assistant professor, he feels the most important thing he can teach his students is, in fact, three things.

"Embrace your voracious curiosity. Engage it with a hint of irreverence. And, do the right thing — especially when it's hard to do," he tells them.
Pictured: Kelvin Gregory, assistant professor of civil & environmental engineering at CMU

Related Links: Shale-Gas Production: New Water Cleaning Treatment | Civil & Environmental Engineering | Read Press Release | Environment at Carnegie Mellon
---