Engineers without Borders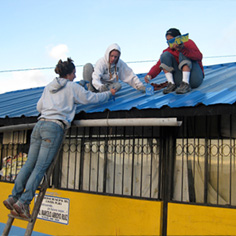 Erica Spiritos (E'11) returned from Ecuador with a renewed sense of hope. Through Engineers without Borders (EWB), she and some fellow Carnegie Mellon University students helped the country's Tingo Pucara community obtain access to clean water.
"You never know how a community will respond ... but the Tingoans could not have been more excited about the project," Spiritos said. "Kids just 10-years-old were picking up paintbrushes and shovels alongside us. ... It was incredible to experience their enthusiasm."
The students implemented a temporary rain catchment system for the community. It's one of many projects throughout the world that is providing the group with an opportunity to use skills they learn in college to assist the global community with their needs.
Bradley Hall (E'10) added, "From a young age, the children in the village are tasked with producing the water supply by climbing down the mountain, and then transporting water back up. As such, they have little time for education."
The goal of the project is to provide a water source to village and to allow children more access to education.
"We have explored several ideas, from a wind powered pump to a well drilled at the top of the mountain," said Hall, who is currently president of the EWB-CMU chapter. "We are in the second year of the project, and are conducting a second assessment trip to investigate further. We need more information about soil composition, elevation, and topographical layout, before we can select the best design for their needs."
Another constraint is funding. EWB is a non-profit organization, and so the group raises all of its funds. Therefore, the projects need to be low cost, and easy to maintain for the local community.
In order to raise money for their national dues, the students recently created a 'bicycle blender' for those who attended Carnegie Mellon's Spring Carnival. It was a bicycle with a friction wheel-driven output shaft that connected to the base of a blender.
"We used it to create smoothies. They were mixed berry with yogurt and orange juice, and were very cold and tasty after a long run up the hill, pushing a buggy," Hall said.
They raised more than $400 and created a tradition that EWB-CMU intends to carry out annually.
Hall said that while focusing on creating engineering solutions to problems faced by the developing world, they also strive to provide advocacy and education about sustainability, green practices and engineering for local communities in need.
"We've only just begun," Hall said. "Our involvement in EWB-sponsored projects is underway and growing with the Ecuador project, and we have several goals and ideas for next year."
The Ecuador project was spearheaded by EWB's University of Pittsburgh chapter (EWB-PPC). Future plans for Carnegie Mellon's chapter include working with EWB-PPC on installing engineering works for low income neighborhoods in Pittsburgh — with a focus on sustainability. Their ideas involve urban farming and cleaning up brownfield sites.
"We need not only all sorts of engineering disciplines, as well as science and other technology disciplines to create the technology, but humanities and design students to understand how it affects the people who interact with the technology," he said. "We also need people with business savvy to get us the funding to support these projects."
Related Links: Engineers without Borders  |  College of Engineering
---