Technology for Green Solutions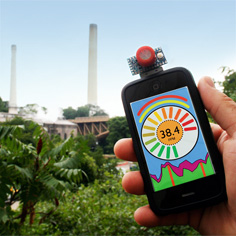 What do you see when you look at a mobile phone? A tool to call or text a friend? Get email? Surf the web? Eric Paulos, assistant professor in Carnegie Mellon's Human-Computer Interaction Institute (HCII), sees a whole new way to expand the reach of science.
Paulos, director of Carnegie Mellon's new Living Environments Lab, is working to equip everyday cell phones with sensors capable of detecting a variety of environmental measurements, like carbon monoxide, ozone, particulate matter, or pollen counts. The data would then be uploaded and aggregated for sharing. Paulos envisions a new generation of 'citizen scientists,' connected both to the environment and each other.
"You have mobile technology with you all the time," Paulos explained. "What happens if that device is not just a communication tool but a measurement instrument? We're looking at things that touch on connecting people with the environment, with human health, and with issues of community."
The benefits of 'citizen science' technology can be as simple as acquainting average folks with the science of the world around us, or as practical as gathering richer data sets for use by professional scientists.
They can be personal, allowing parents to analyze a local industrial plant's effect on the neighborhood school's air quality, or world-changing, increasing concern for our environment and encouraging societal level calls to action.
"Everyone has a personal environmental question they'd like to learn more about and we'd like to empower people to feel independent and proactive about employing mobile technologies to understand them," Paulos said. "The bigger issue is how do you facilitate the kinds of grassroots campaigns that hopefully give rise to real campaigns for change?"
Paulos and his team have already successfully experimented with installing air quality sensors in San Francisco street sweepers, taxicabs in Ghana, and homes in Pittsburgh. He was pleased to see behavioral changes occurring alongside the data collection.
"A woman in the study quit smoking," he said, relating a favorite anecdote. "She thought that when she put out the cigarette the air would be safe for her family, but realized the smoke effects lasted a long time. Seeing that kind of data was eye-opening for her."
Paulos recently came to Carnegie Mellon from Intel Research in Berkeley, Calif., drawn to the university for both its reputation and its widespread environmental focus.
"When I came here, I wanted to focus on environmental issues scoped within the HCII," he said. "I felt an ethical calling as a researcher. I really wanted to impart some kind of critical thinking into the next generation of folks that go out and tackle these problems."
He was equally drawn by the university's interdisciplinary possibilities.
"The future practitioners in our world are going to require a really diverse skill sets and expertise across a broad range of disciplines. The problem solving is not going to be as narrow as we've seen in the past," Paulos stressed. "By coming to the HCII, I felt that I could participate in broadening those educational goals and help create that kind of interdisciplinary focus as an educator."
Related Links: The Living Environments Lab  |  HCII  |  Eric's homepage
---