Building a Greener World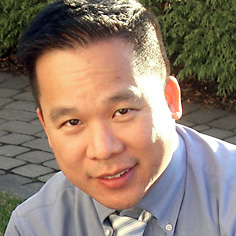 Builders in the South Jersey-Philadelphia area are going increasingly green, thanks in part to the environmental awareness of Kirby Wu.
Uniquely equipped with a background in architecture and business, the Carnegie Mellon alum brings a new dimension to his father's successful general contracting firm, Wu and Associates, and to his own firm, Arch Design Architects.
"The idea took root in early 2007 when 'green' was not yet a popular term in our local area," Wu (A '94) explained. But by 2009, both Wu & Associates and Arch Design Architects were members of the U.S. Green Building Council, producing a senior staff of LEED Accredited Professionals, their first design-build LEED construction project, and several LEED architectural projects.
Wu's projects include schools and colleges, government buildings, military facilities, and the preservation and restoration of historic properties.
Keeping a sharp eye on sustainability, he and his staff break down the entire process of green building into an accessible reality. Regardless of whether his clients own, develop, design or rent, Wu promises the maximum sustainable potential of the project.
"I've always believed that a successful business is built on making responsible choices and taking calculated risks," Wu said. "By continually pushing the envelope on green building and leading by example with our numerous LEED projects, members of our local community are bound to embrace the concept sooner than later."
He pointed out that, "After all, seeing is believing — and by promoting a concept that is environmentally, economically and socially sustainable, it's a win-win situation all around."
Wu said environmental conservation is just one of the many benefits of green construction. "A green building has the potential to enhance the every day experience of its occupants and serve as an example of conscientious design for the community at large."
Some of the sustainable technologies Wu is likely to incorporate into one of his projects include geothermal exchange, natural day-lighting, solar panels, native landscaping, vegetated roofing, recaptured rainwater and environmentally friendly products.
Wu said environmentally conscious design was a natural way for him to unite his business and architecture degrees to provide a much needed service that will have a long-term impact for generations to come.
"The learning environment at Carnegie Mellon inspired me to challenge existing ideas and find new solutions to seemingly insurmountable problems while maintaining a realistic understanding of how the world works," he added. "My experience at CMU — the professors, lessons, and campus offerings — was truly a launching pad for the success I have achieved and constantly strive to build upon."
Related Links: School of Architecture  |  College of Fine Arts
---