Excellence in Research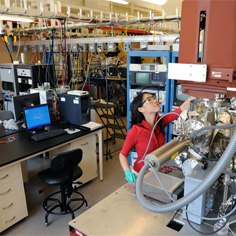 After years of planning and hard work, Doherty Hall on Carnegie Mellon's Pittsburgh campus has been transformed into a state-of-the-art chemical engineering laboratory facility.
"The department now has facilities for computational modeling, optical microscopy, bacterial and cell culture, aerosol science and surface science that match or exceed those of any other chemical engineering department in the country," said Andrew Gellman, Lord Professor of chemical engineering at Carnegie Mellon.
Among the potential applications are the study of aerosols for understanding and controlling pollution; the mitigation of greenhouse gas accumulation; and the investigation of the behavior of nanomaterials inside living cells.
LEED-certified with its high-performance, low-energy design, the lab maximizes opportunities for interdisciplinary collaboration.
"Rather than isolating the research groups of individual professors, the department now houses five very large open labs for both experimental and computational research," Gellman said.
"Space for students and equipment is shared among the various research groups. This model optimizes the use of space by eliminating walls and corridors; stimulates and facilitates collaboration, improves flexibility of space utilization; and improves safety."
The renovation created five floors of modern research labs for the five research areas of the department: process systems engineering, complex fluids engineering, bioengineering, solid state materials, and envirochemical engineering.
Gellman said students and faculty recruits are drawn to Carnegie Mellon not only by the fact that the facilities are brand new but by the research opportunities made possible by the highly interactive intellectual environment.
Related Links: Chemical Engineering  |  College of Engineering
---